There's no getting around it, operating a water jet cutting system requires a large amount of water. If you're using an abrasive water jet system, you're mixing water and abrasive – a process that produces a wastewater by-product. Disposal of these by-products raises environmental concerns by many water jet system users – but what can you do about it? Turns out, you can do quite a bit to mitigate these concerns.
There are a multitude of different methods and equipment that can be added to your water jet system that will significantly reduce its environmental impact. Some of these include:
Chillers
Closed-loop Filtration Systems
Abrasive Removal Systems
Let's explore some of the system add-ons available and how they reduce the impact of your system.
Chillers
Chillers can be used as a means of lowering the water consumption of your water jet system in two ways.
A closed loop chiller can be used in conjunction with your pump to eliminate the need for the use of any cooling water for the hydraulic circuit of the pump. For example, this saves on a waterjet system with a 50-horsepower pump about 4 gallons a minute of water usage for the cooling circuit. Then the only wastewater is from the water used in the actual cutting process.
Used in combination with a closed loop water filtration system, in-line chillers remove waste heat from the water in your whole system loop. This includes both cutting water and cooling water. After the water in your loop makes its way through the filtration system, it then passes through the chiller where compressors cool the water. The filtered, cool water is then returned to the loop for re-use. In-line chillers significantly improve the maintenance intervals on your pumps and keep them performing at maximum levels during lengthy cuts.
Closed-Loop Filtration Systems
A simple way you can significantly reduce the impact of your water jet cutting system is to configure it in a closed loop. Closed loop systems prevent the discharge of wastewater directly into a drain – a practice that is particularly impactful when using abrasive systems (abrasive systems use garnet that mixes with water to produce wastewater). Additionally, closed loop systems enable the water to be recycled and reused within the loop significantly reducing the amount of water consumed during cutting.
In a closed loop system, the table of your water jet cutter overflows into the weir tank where the abrasive settles out. The water is then filtered out by a series of filters, then clean water is sent to the chiller and then back through the loop. A closed loop system is necessary if your plant layout has no drain where wastewater can be discharged. By keeping your loop water clean and up to OEM specs, these systems increase your pump's performance and reduce wear on parts of the machine. This can have a significant impact on the maintenance intervals of your entire system.
Abrasive Removal Systems
If you're using an abrasive water jet cutting system and want to reduce the environmental impact of using abrasives during cutting – an abrasive removal system is an ideal add-on. Designed to remove abrasives from the tank, abrasive removal systems eliminate the need to manually remove the spent garnet from the tank. The hopper in these systems receives the wastewater (also referred to as sludge) so that clean water can be returned to the catch tank.
A sweeper package at the bottom of the tank which is essential nozzles that keep the abrasive in suspension in the water allow the abrasive removal system to pump the sledge to the tank for separation. This significantly reduces the downtime of your cutting system and increases interval times on catch tank maintenance.
---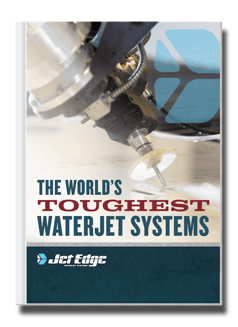 Check Out Our Digital Brochure!
Since 1984, Jet Edge has been designing and manufacturing Ultra-High-Pressure Water jet technology that doesn't back down. Our systems are used around the world in a broad range of industries from the world's leading airlines, to automotive, aerospace and industrial manufacturers, and machine job shops.
To learn more about the Jet Edge difference, our water jet motion systems, pumps and much more, click the button "Download Brochure" to get it now!