When you start your water jet journey, you're likely starting online. Also likely you're going to Google to search. You might try keywords like:

• Waterjet Cutting Machines
• Water Jet Cutters
• Waterjet Machines
• Abrasive Water Jet Machining
• CNC Water Jet.

However, seldom does that bring answers to the technical questions and solutions you're looking for. So we ask, have you tried a blog?

The word blog is a combined version of the words "web" and "log" or "web logging." At their inception, blogs were simply an online diary where people could keep a log about their daily lives on the web. They have now expanded to include informational websites run by an individual, group, or corporation that offers regularly updated content (blog post) about a topic.

What is the Jet Edge blog? You may have guessed it is a collection of our informational content on water jet cutting systems, and if you did, you nailed it. In our Blog Library, we offer technical information on all things waterjet cutting. If you are researching a project or looking to optimize waterjet cutting in your facility, chances are you have a technical question. In our blog we use our decades of water and abrasive water jet machining to offer insights and best practices to the various industrial applications. Our blog offers many embedded related links that will provide you with with cross references and additional topics, case studies, outside research, etc. that will enable you to easily expand your search to other relevant topics.

Jet Edge has dozens of blogs across a whole range of topics in our Resource Center along with Case Studies from customer's who have relied on our technical experience to expand their waterjet capabilities.
A Quick Overview and Sample of Our Blog Content
Jet Edge has dozens of blogs across a whole range of topics in our Resource Center along with Case Studies from customer's who have relied on our technical experience to expand their waterjet capabilities.
What Do Water Jet Cutting Systems Cut?
Yeah, You Can Cut That with Water Jet Machines (Part 1)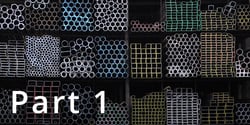 The first water jet cutting system can be traced all the way back to the mid-1800s when miners used high-pressure water to remove overburden in hydraulic mining operations. While crude by today's standards, it is notable for being the first...
Yeah, You Can Cut That with Water Jet Machines (Part 2)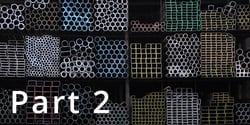 In Part 2 we explore the two different types of water jet cutting and the advantages and capabilities of each. Taken together with Part 1, you have an excellent overview of the most versatile cutting technology available today...
Selecting the Best Cutting Method for Your Metals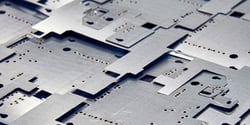 The most common methods for cutting sheet steel and plate steel includes Shearing, Laser Cutting, Plasma Cutting, Oxyacetylene Cutting and Waterjet Cutting. Each cutting method has advantages within its range of processing.
Cutting Composite Materials with Water Jet Cutters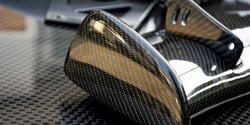 According to an article by TWI, a composite material is:
"a combination of two materials with different physical and chemical properties. When combined, they create a specialized material to do a certain job, for instance, to become stronger...
What is a 3-Axis and 5-Axis Water Jet Cutting? What's the Difference?
An Introduction to 3-Axis Water Jets and Abrasive Cutting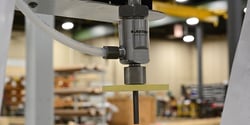 For many materials, waterjet cutting and abrasive cutting systems are used to cut in two dimensions – across the X and Y planes. In most of these applications, the Z carriage the cutting head is mounted to remains fixed in the down (cutting) position...
The Advantages of 5-Axis Water Jet Cutting Machines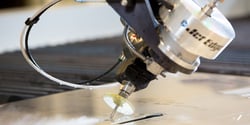 The water jet cutting industry has gone through many technological changes over its existence enabling more products and industry applications. For a long time, 3-axis cutting was the industry standard and capability of most water jet cutting...
Water-Only Cutting versus Abrasive Water Jet Cutting
How to Maximize Abrasive Cutting Productivity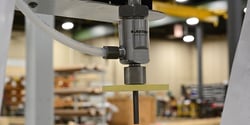 Adding a CNC water jet cutting machine tool to your operations is a smart move. The water jet can cut a wider variety of materials in greater thicknesses with less post-cut clean-up than other alternatives such as laser and plasma cutters. There are...
Why Should I Use an Abrasive Water Jet Machine to Cut My Steel?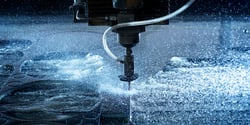 Steel comes in a lot of shapes and sizes – coiled, flat, bar, plate, tube and more. The common element of each of these is they require some kind of "cutting to shape" for customers. Slitting lines are used to slit the coil to width...
The Advantages to Cutting Foam with Water Jet Cutting Machines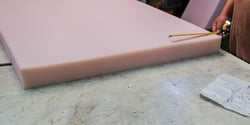 There are a variety of different products and applications that are a great fit for use with water jet cutting machines. However, not all products and applications can be treated the same way. Different water jet configurations are often needed to...
Selecting the Right Garnet for Abrasive Cutting and Managing Spent Garnet
How to Choose the Right Garnet Abrasive for Your Water Jet Cutting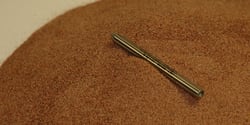 Various types and sizes of garnet are available for abrasive cutting applications. When the right size and type is introduced into the high-pressure waterjet stream, they balance the aggressiveness of the cut with the cut finish. However, when it...
Can Spent Garnet Be Recycled? How to Dispose of Waste Garnet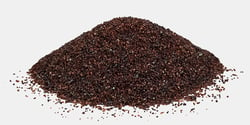 When the spent garnet and debris ("sludge") reaches the bottom of the slats that the work pieces are held on, or when the sludge has accumulated in the tank to a degree in which an increase of water turbulence occurs while cutting, it should be...
What is Abrasive Removal? What Advantages Does It Offer?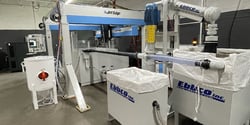 Waterjet cutting starts with bringing an incoming water stream up to ultra-high pressure, usually 60,000 psi, and then directing it through high pressure lines to a cutting head. That cutting head can be mounted to a motion system gantry that...
How to Select a High-Pressure Water Jet Pump
Hydraulic Water Jet Intensifier Pumps vs Direct Drive Water Jet Pumps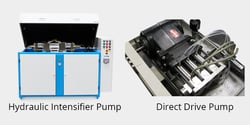 Behind every great water jet cutting machine is a high-pressure pump. The pump is the heart of your machine – creating a high-pressure environment that gives life to your cutting head. If you don't have the right pump, you won't get the performance...
How Much Horsepower Does Your Water Jet Cutting System Need?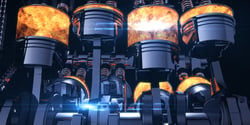 It's not an overstatement to call the intensifier pump the heart of a water jet cutting system. Just like the human heart pumps blood to keep the body operating at peak performance, the intensifier pump powers the water or water/abrasive mix your...
What is Visual Management and Predictive Maintenance on a High-Pressure Pump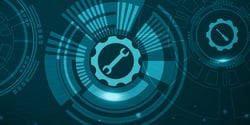 Everyone understands the value of timely routine maintenance for all high precision cutting and machining tools, including waterjet cutting equipment and high pressure pumps. Done correctly, per a recommended schedule, you experience higher uptime...
What Industries Does Water Jet Cutting Technology Serve?
Stone Fabricators and Countertop Fabricators and Water Jet Cutting Systems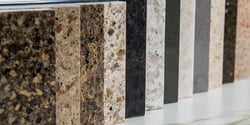 Nature has been cutting and carving stone for billions of years. Nothing can resist the unrelenting force of water. Take the Grand Canyon, for example. Now that is a masterpiece of stone cutting with water. However, as a fabricator working with...
High-Volume Plate Cutting in the Metals Distribution Industry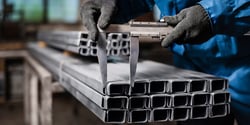 Metals distribution companies play a pivotal role in the supply and manufacturing chain from raw ore to finished goods. With labor shortages and an increasing variety of specialty metals in demand, this role is becoming more important every day…
All About Water Jet Cutting in the Aerospace Industry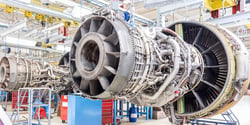 Every industry that requires precision-machined parts has its own set of unique manufacturing challenges. But it's safe to say the aerospace industry is especially challenging and demanding. Parts in the industry can require…
Robotic Automation with Water Jet Cutting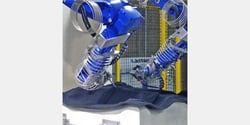 Robotic water jet cutting is just what it sounds like, the integration of the water jet's unique and flexible cutting characteristics with the productivity and precision capabilities of robotics. Pairing these two technologies creates a cutting...
Cutting Glass with Water Jet Cutters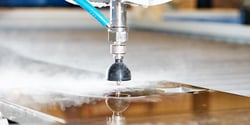 Water jet cutting systems are made to cut through nearly every imaginable surface, but not all systems are alike. Different materials require specific water jet cutting systems...
What to Consider Before Purchasing a Water Jet System
What's in a Water Jet Cutting System? A Complete Overview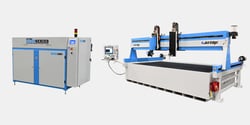 Abrasive water jet cutting offers a broader range of cutting options than any other single machine tool. No competing technology cuts as many material types in as many thicknesses to the precision of a water jet cutter. Whether you are cutting thick...
4-Step Buying Guide for Purchasing Your First Water Jet Cutting System
Adding the power and versatility of a water jet to your shop floor opens a whole new range of material processing opportunities. Deciding which tool to purchase requires a detailed evaluation of your options. It can be an especially daunting task...
Where is Your Water Jet Manufacturer After the Sale?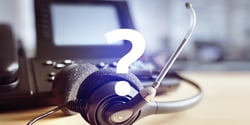 If you are in the market for a better cutting solution, choices abound. First there are a plethora of different cutting technologies, including water, plasma, laser, torch, saw, shear, slitting, and more. Then there are a variety of manufacturers...
---
Have a Blog Topic You'd Like us to Cover?
If you have a blog topic you would like us to cover on this blog, let us know by completing the Contact Us form on THIS PAGE!
---
This is Complex. We Get It - We're Here to Help
Jet Edge has done hundreds of installations and can walk you through each of these and other methods to enhance your water jet productivity. We also strive to publish as much information as possible to enable our customers to make the best decision for their specific needs, so visit our Blog Library located in our Resource Center to read about all things water jet. Additionally, have a look at our Case Studies and learn how others have managed through the selection process.
Talk to Jet Edge
Contact us today to learn how to increase your service offering to your customers. You can also reach us by phone toll-free at 1-800-JET-EDGE (538-3343) or internationally at +1-763-497-8700.
---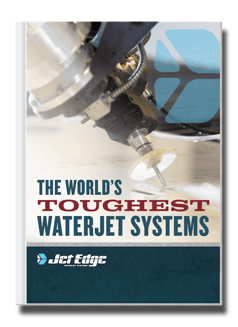 Check Out Our Digital Brochure!
Since 1984, Jet Edge has been designing and manufacturing Ultra-High-Pressure Water jet technology that doesn't back down. Our systems are used around the world in a broad range of industries from the world's leading airlines, to automotive, aerospace and industrial manufacturers, and machine job shops.
To learn more about the Jet Edge difference, our water jet motion systems, pumps and much more, click the button "Download Brochure" to get it now!