When the spent garnet and debris ("sludge") reaches the bottom of the slats that the work pieces are held on, or when the sludge has accumulated in the tank to a degree in which an increase of water turbulence occurs while cutting, it should be cleaned by removing the spent garnet and slug material.
For more info on abrasive removal, check out our blog "What is abrasive removal? What advantages does it offer water jet cutting systems?"
Alternatives for Abrasive Removal - What do you do with Spent Abrasive?
While there are a number of techniques to extract the sludge there are a few that are most prevalent and considered best practices. Manual removal methods include shoveling, using a small backhoe and skip or hiring your local septic tank cleaning company to suck it out. An Automated Abrasive Removal System attempts to keep the garnet suspended in the water while suctioning out to a separator that separates the water and garnet. The water is returned to the water jet and the garnet disposed of.
May I Dump the Overflow Water from my Catch Tank Down the Drain?
As mentioned above, a water jet cutting system relies on a continuous incoming water stream flowing through the cutting head to make cuts. The added water flows into the catcher tank and is drained off via an overflow drain. Many companies discharge the water drainage directly into the city sewage or drainage system. However, before doing this, some research needs to be performed.
Local Regulations Usually Apply
The incoming water source and the water expressed from the cutting head is clean water. Actual water usage will vary based on the type of cutting performed and the volume of water required to perform the cuts. Most cities monitor water consumption for industrial use and may require permitting for the discharging of the overflow water. While garnet, a naturally occurring, inert, mined mineral, isn't hazardous, abrasives mixed with it or the material that is being cut may be. Make sure you research environmental regulations for guidance before cutting any material you aren't 100% certain is non-hazardous to avoid expensive Haz-Mat handling and disposal costs.
Water Quality
For more info on water quality, check out our blog "How does water quality impact your cuts?" and/or "Water quality and water jet filter replacement best practices"
A very small percent of water jet shops, unless they are cutting lead or beryllium copper, are likely at risk of putting hazardous waste down their drain, however, it is simple and worthwhile to verify. First, get your discharge water tested, and ask your local water utility for a listing of limits for heavy metals to watch for. If you find that you are near or above local limits, you may have to filter the water before it goes down the drain.
Toxicity Upon Water Disposal
The toxicity characteristic leaching procedure (TCLP) is a common test for used water and abrasive which determines the toxicity of waste and its inherent environment risk. It essentially determines how much, if any, of the toxicity characteristics will leach from the waste and enter the environment. Your water softener, reverse-osmosis system, or water recycling system equipment supplier should be willing to provide this testing service to you at little or no cost. For abrasive, ask your waste hauler for help doing an annual TCLP.
Water Utility Costs
Regardless of the permitting your city, county or state require on disposing of the water used in water jet cutting process, water utilities bills will reflect this consumption. A math computation of water consumed times the per gallon usage cost can be used to estimate the cost of dumping the excess water.
Filtration to Reduce Garnet Sentiment
Filtration systems utilize settling tanks to remove a significant amount of the garnet prior to disposal. If dumped without filtering, over time, suspended solids can settle out from your wastewater to block and restrict the sewer lines possibly resulting in a large cost to the operator due to mandatory cleaning of the lines. Settling tank(s) are inexpensive too and simple to maintain.
Wastewater Reduction
Certain regional areas are more arid than others and clean water availability may vary between seasons and may even be considered scarce. Dumping water continuously is not consistent with water conservation and an alternative may be sought.
Eco-friendly Closed Loop Systems continuously route the water overflow back to the waterjet for reuse, thereby essentially recycling the water continuously and work with water only or water and abrasive waterjet cutting. These systems reduce water and sewage utility bills, prevent the introduction of hazardous materials into drainage system, and lessens the impact on water demand in periods of drought.
How Do You Dispose of Spent Garnet?
While garnet by itself isn't hazardous, the material residues mixed with it may be. Make sure you consult your local environmental folks for guidance before disposing of it. If you are manually removing garnet from your catcher tank, and you have confirmed it is non-hazardous, dumpsters from your waste management company are often used and the spent garnet is delivered to a local landfill.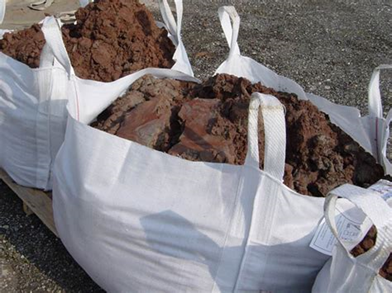 Recovered garnet in a strainer bag ready for disposition
If you are using an Abrasive Removal System with a settling tank, the abrasive is deposited into a strainer bag. The bag is usually the same bag the original garnet was delivered in, holding a manageable 4400 lb. bag that can be lifted by its straps with a fork truck. The spent abrasive is relatively clean and void of parts larger than 1/8" diameter and is easier to manage one bag at a time. Again, after you have confirmed it is non-hazardous, bags are collected until an appropriate volume is ready for your waste management company to remove them.
Disposing of used garnet isn't free, and costs add up over time. Because of the density of abrasive, reducing transportation distance to the disposal site is one tactic to reducing this cost. Since the spent garnet is wet, draining the water from the bulk bags reduces weight and disposal costs.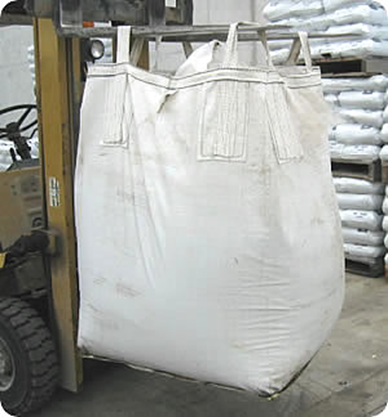 A FIBC or bulk bag is used to remove the spent garnet easily
And remember, garnet is a naturally occurring mineral and maybe repurposed. Your used garnet abrasive may still be useable as a sand blasting medium, or added to concrete/block mixtures as an added hardener and filler, or used in similar applications as you might use sand in.
Can Spent Water Jet Abrasive be Recycled?
While recycling spent abrasive might not be your first thought, it would make sense to reuse it back in the machine if the cutting properties have not deteriorated fully. Unfortunately, the recycling systems you might install in your plant today are more expensive to operate than purchasing raw virgin abrasive when you accumulate the cost of space, utilities, and maintenance to keep them operating.
Depending upon your locality, your garnet supplier may have recycling options for your spent garnet. GMA Garnet offers a program that describes their recovery process to keep the spent garnet out of landfills as follows:
"We first clean spent garnet sourced from blasting and waterjet cutting activities to remove all contaminants, including dust, rust, paint flakes and metallic particles. Then we precisely size the garnet into various grades to suit customer requirements."
Compare Jet Edge to Any Water Jet Manufacturer
How do you "extract" the maximum value from your cutting systems? By keeping them running at full capacity when you need them. Whether you are running around the clock or during a specific shift, you are losing money if your cutting equipment isn't performing at 100%.
When you are looking to expand into water jet cutting or evaluate your cutting technology options, we invite you to take a close look at Jet Edge. Compare us to any other water jet manufacturer and you'll see why our customers choose both our equipment and our post-sales support.
Remember, your relationship with Jet Edge does not end after the sale…that is when it just begins!
Talk to Jet Edge
Learn more about custom configurations, high-rails as an option, and see how others have utilized Jet Edge Waterjet Systems to maximize their cutting capabilities.
Contact us today to learn how to increase your service offering to your customers. You can also reach us by phone toll-free at 1-800-JET-EDGE (538-3343) or internationally at +1-763-497-8700.
To Learn More about Abrasive Water Jet Cutting visit our Blog Library located in our Resource Center at
https://jetedgewaterjets.com/resources/
---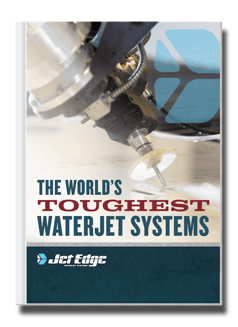 Check Out Our Digital Brochure!
Since 1984, Jet Edge has been designing and manufacturing Ultra-High-Pressure Water jet technology that doesn't back down. Our systems are used around the world in a broad range of industries from the world's leading airlines, to automotive, aerospace and industrial manufacturers, and machine job shops.
To learn more about the Jet Edge difference, our water jet motion systems, pumps and much more, click the button "Download Brochure" to get it now!