If you are in the market for a better cutting solution, choices abound. First there are a plethora of different cutting technologies, including water, plasma, laser, torch, saw, shear, slitting, and more. Then there are a variety of manufacturers for each solution. Factor in your unique cutting needs and your decision matrix is already full!
Fast forward, you settle on your preferred cutting technology, select a shortlist of manufacturers, compare your options side-by-side and then you need to decide. How do you break the tie when capabilities are closely matched and the prices are similar?
What Happens After the Sale?
An unfortunate reality in business is there is often a difference between the pre-sale and post-sale experience. Before you purchase, you receive the "royal" treatment with lots of promises. However, once the ink dries on the Purchase Order, your sales representative has moved on and you may become just a production order in the queue. This post-sale breakdown complaint is one of the most common reasons water jet users turn to Jet Edge to be their water jet partner.
What Does Post-Sale Support Entail?
The productivity and accuracy of your cutting systems depend upon proper installation, scheduled maintenance, fast service support and continued operator training. When post-sale support fails, your cutting system's ROI suffers and Total Cost of Ownership skyrockets.
How does your water jet investment payoff post install?
Equipment Installation
Jet Edge installers are the best in the business. Our team of field service providers have years of both factory production and field installation across a very broad product range. Before they leave, they will ensure the equipment is calibrated to the required precision level and that your operators are trained to operate the equipment. This practice dramatically reduces scrap losses as your operators learn how to run water jet equipment.
Post Install Assessment
A post installation call and or visit will be made by our head of Technical Service to make sure you are getting the most out of the available on-line resources and from your Jet Edge support team. Scheduled maintenance, suggested parts inventory and optional maintenance and applications support programs will be thoroughly reviewed. Our online support programs including our on-line parts ordering, video training library, My Equipment manuals and parts list locations will be set up and our Blog Library discussed to help identify water jet topics most relevant to your operation. Additional factory training will be offered to make sure your team is comfortable with high pressure water jet systems and its maintenance.
Scheduled Maintenance
Our HERO Series of intensifier pumps has predictive maintenance programs incorporated into the control set to anticipate a failure before it happens, reducing downtime and unplanned work stoppages. The scheduled maintenance can be performed by your in-house team or contracted out with Jet Edge's service team.
OEM Spare Parts Pricing
Jet Edge gets it, spare parts can be expensive and you only want to inventory what you absolutely need. Jet Edge looks to price aggressively, but also is committed to maintaining a high level of OEM and system-specific parts inventory ensuring high first time fill rates. Having an ample supply reduces wait times for our customers.
Service Support for Troubleshooting
Email and voice mail are simply unacceptable when a production-stopping technical issue hits your shop, especially outside the 8 - 5 shift. Highly trained Jet Edge technical specialists are available via telephone 24/7 to help you get up and running fast.
Pre-Install and Post-Install Application Training and Programing
Jet Edge provides operating application on-site at the time of the installation. This training focuses mostly on programming geometry and adjusting feeds and speeds. Advanced training is available that assists a customer to optimize their water jet cutting in the application they are performing. Working together, Jet Edge can help do test cuts that increase speeds of cutting and piercing, while optimizing garnet consumption and cut efficiency.
Custom Configuration and Custom Fixturing
Early in the process custom configuration options were discussed with your Jet Edge sales representative. These custom configurations often incorporate fixturing design for complex parts holding as well as adjustable z heights and water levels. This allows you to get the most from your investment, meet unique customer needs and grow your business.
In-House Service and Technical Expertise, or Jet Edge?
What is the best support solution for your operation? Trained in-house staff? Contracts with the cutting system manufacturer? Or a combination? Whatever works best for you, Jet Edge has the training and service options to make it happen.
Video and Live Training
We will train your staff to manage all the aspects of keeping your Jet Edge cutting system running smoothly and efficiently. We offer both video-on-demand and live options.
Compare Jet Edge to Any Water Jet Manufacturer
How do you extract the maximum value from your cutting systems? By keeping them running at full capacity when you need them with fully trained operators. Whether you are running around the clock or during a specific shift, you are losing money if your cutting equipment isn't performing at 100%. Post-sale support and the proper maintenance program are indispensable in this effort.
When you are looking to expand into water jet cutting or evaluate your cutting technology options, we invite you to take a close look at Jet Edge. Compare any other water jet manufacturer and their post-sale support to ours, and you'll see why our customers chose both our equipment and our support.
Download our brochure here or contact us for application analysis.
---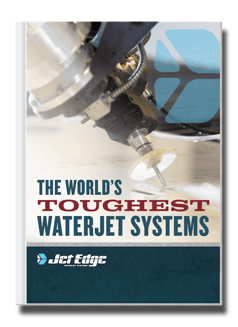 Check Out Our Digital Brochure!
Since 1984, Jet Edge has been designing and manufacturing Ultra-High-Pressure Water jet technology that doesn't back down. Our systems are used around the world in a broad range of industries from the world's leading airlines, to automotive, aerospace and industrial manufacturers, and machine job shops.
To learn more about the Jet Edge difference, our water jet motion systems, pumps and much more, click the button "Download Brochure" to get it now!