Adding the power and versatility of a water jet to your shop floor opens a whole new range of material processing opportunities. Deciding which tool to purchase requires a detailed evaluation of your options. It can be an especially daunting task for first-time water jet purchases. This 4-step buying guide is intended to help evaluate water jet cutting in your shop and hopefully guides you in your efforts.
Step 1: Defining Your Water Jet Cutting Objectives
When it first dawned on you that adding a CNC Water Jet Cutter to your shop floor might add value, there was a reason – a gut feel. In Step One, it's time to quantify that feeling.
Confirm that the Water Jet Cutting Method is the Best Cutting Solution
Some materials are just best cut with ultra-high-pressure water. Foam packaging, vinyl, acoustical panels, rubber, and textiles are all materials conducive to using water when cutting. It uses no heat, is fast, eliminates most of the setup time, can cut to required precision, and the user can choose a cutting envelope based on the raw material sheet size and add multiple heads for productivity.
Stone and Ceramics
Stone and ceramics are also materials where water jet cutting is the preferred cutting method. Granite countertops use abrasive water jet for contoured cuts and holes when straight cut saws are not an option. This is because Ceramics possess similar properties and ceramic pieces are often trimmed to size with abrasive water jets.
Specialty Alloys
Specialty alloys can be some of the toughest materials to cut due to their enhanced chemistry. Laser, plasma, and machining create heat, which can distort the metal's properties and create a hardened area that requires a secondary machining operation. Water jet systems can cut through stainless plates nearly six inches thick, chew through dense aluminum blocks, and shape Inconel and titanium with ease.
Ferrous and Nonferrous Materials
Ferrous and nonferrous metals can be cut to a high precession level with a quality finish using water in combination with abrasives all without significant heat. Copper, brass, steel plates and all the other distributed metals you might need can be cut with water jet systems to near net shape often eliminating the need for additional machining. Many of these products come in sheet sizes where laser and plasma may be an alternative too. However, specialty tooling or other R&D projects may have irregular shapes that are best cut with abrasive water jet systems.
All of the Above
Cutting all of the above? A water jet cutter can be cutting rubber one day and a specialty alloy tomorrow with simple settings adjustments. Glass and composite materials are other materials where water jet systems shine – providing a vast range of material versatility versus competing methods.
Not sure if your material should be cut with water? If you have an unusual material and are not sure if it can be cut effectively and efficiently with water, you can request an Engineering Analysis from Jet Edge to confirm the process.
Confirm the Investment has the Potential to Grow Revenue and Improve Margins
If you increase the range of materials you are able to cut, does that result in a larger market opportunity with growth potential? By adding a water jet, can you add plant capacity that can be sold through? Can you move production in-house that is currently contracted out at higher margins and shorter lead times? Can you eliminate secondary operations like grinding or additional machining by cutting to a higher finish quality without heat? Quantifying the revenue growth opportunity and margin enhancement opportunity is an essential part of the Return-on-Investment analysis when considering purchasing a system.
State and Quantify your Production Goals
On-time, lowest possible cost, zero defect, and no accidents are production goals of world class companies. However, each may be weighted uniquely. For instance, if on-time and lowest costs are critical, water jet cutting systems can be configured with lights-out cutting to get higher machine utilization without an operator monitoring locally. By adding multiple heads and parts nesting, machine and labor productivity can be vastly improved while increasing throughput, reducing lead times, and amortizing fixed costs over more production hours. If you're in the aerospace industry and demand perfect parts, integrated fixturing can be incorporated into a high-rail motion system and will cut Inconel, titanium, and other specialty alloys to a high precision with lower scrap rates.
Total cycle time of water jet systems also compares favorably to alternative production methods. Clearly stating your production goals and then quantifying them provides a base line to evaluate the contribution a water jet cutting system can make in your application. It can also help you compare systems and establish a capital budget that justifies the investment.
Step 1 Summary
Consider the materials you are currently cutting and identify those that might be options for water jet cutting. Consider how you might expand your product and service offering if you could cut a broader range of materials with one machine tool. Identify and quantify your objectives so equipment specifications can be justified. If you would like to speak to a Jet Edge Equipment Specialist to talk through these opportunities, just hit Contact Us!
Step 2: Deciding Between Water Only and Abrasive Water Jet Cutting Systems
Once you have established the materials you are cutting and defined your production goals, you need to select a cutting method. Again, many of the materials mentioned above (e.g., Foam packaging, vinyl, acoustical panels, rubber, textiles, etc.) can be cut with water only. So, if your business focuses on processing softer materials, and you plan to stay in that market, then a water-only water jet will meet your needs while saving on costs and complexity.
If you are cutting hard materials (e.g., stone, glass, specialty alloys, metals, certain composites, etc.) then an abrasive cutting system is required. Note, you can cut soft materials with abrasive cutting machines by changing the cutting head and not using the garnet, but you cannot cut with abrasive on a water only system. An abrasive system introduces more system components, including bulk garnet hoppers, garnet removal systems, and nozzle/orifice types that need to be part of the investment analysis, shop layout plans, and integrated into your overall decision.
Step 2 Summary
Choose a water only or an abrasive cutting system. Build in the additional system requirements for abrasive cutting and display it on a shop floor layout. Your Jet Edge Equipment Specialist can help you configure a complete system if you need help. Just hit Contact Us!
Step 3: Does My Cut Require 3-Axis or 5-Axis Cutting Capabilities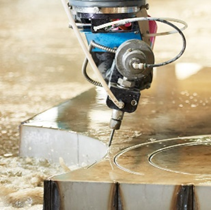 Your selection of a 3-axis and 5-axis water jet depends upon the geometry of the parts you are cutting. For traditional 3-axis cutting, machining is performed in the X and Y planes with the Z-axis performing only a raise and lower function. This is often referred to as two-dimensional cutting. A water jet with 3-axis capabilities is less complex than a 5-axis water jet, lowering its overall costs. It is also easier to program and is a great solution for many cuts. However, as material properties get thicker and contoured cuts are called out, a 3-axis system is more limited in the work it can perform.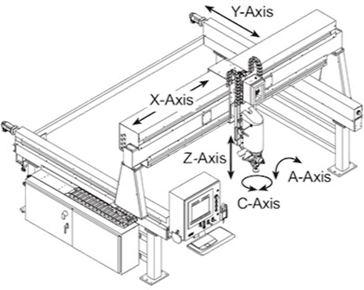 If your parts geometry calls out bevels, flatness on a side cut, or machining that requires cutting in the Z plane, you need a tool with 5-axis capabilities. The 5-axis water jet adds an A-axis and C-axis for bevel cuts up to 60° angles around a full circle. By making the Z-axis servo driven, you can cut profiles on the side of a part whether that part is square or rounded. The three-dimensional machining capabilities broadens the range of parts that can be cut and allows for fixturing to be introduced for quick parts placement.
Another is to mount one 5-axis cutting head and one 3-asix cutting head to the gantry to create the flexibility to cut with either depending on the instance.
It is possible to upgrade a 3-axis water jet to 5-axis capabilities, however, it is an expensive proposition and generally not considered cost effective. If your production might benefit and your budget supports it, consider a 5-axis water jet at the start.
Step 3 Summary
Your part's geometry will dictate the need for 3-axis or 5-axis cutting. Thicker, more complex shapes with contours will require a 5-axis cutting head. If you're not sure about which system would best fit your application, Contact Us and an Equipment Specialist can walk you through case studies that review the thought process on selecting cutting systems.
Step 4: "Quick Start" or Custom Configuration
For most water jet buyers, the "fun" begins when they reach the point of specifying system features to meet their specific application needs. If you have completed the first three steps of this guide, it's time to dial in the system. Let's explore two approaches to final tool selection.
Quick Start/Pre-Configured Solutions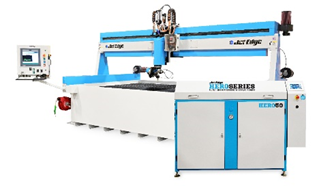 Most water jet manufacturers offer a pre-configured solution containing everything a company needs to start providing basic water jet cutting services. Often called a quick start system, or in Jet Edge's case a Jet Start System, this option offers three advantages that are especially appealing to first-time buyers. They are:
Easy install with fewer components.
Provides a fixed budget that avoids overloading on options that may not be economical
Gets your company into water jet cutting fast with a relatively simple solution.
While this solution seems appealing on its surface, it comes with system limitations that may come up as you start running the equipment full time. It's always best practice to compare the Quick Start solution with a system that is custom configured to your specific application, and weighing the pros and cons as well as cost differences.
Custom Configured Systems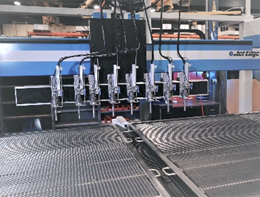 Custom Configured Systems allow you to optimize the cutting equipment to your specific water jet application and meet the production objectives you outlined at the start of the process. Configuring a system begins with a comprehensive review of the items detailed in Step 1 – Step 3 of this guide, with a special emphasis around the production goals. Your custom configured system may utilize a high-rail system instead of more standard mid-rail. It may utilize multiple cutting heads for increased productivity, incorporate lights out cutting, and/or an automated load/unload system. Based on your specific cutting volumes, it may incorporate abrasive removal and/or incorporate a closed loop system for water recycling. There are tons of options when configuring a system with the end goal being a machine specifically designed around your materials and application.
As you'd expect, custom configured systems take longer to engineer, manufacture, deliver, and install - but may result in the best solution for your company in the long-term.
Step 4 Summary
A system should be designed around today's need with an eye on the future. Quick start systems are a great way to dip your toe in the water and get started at a lower price point while custom configured systems attempt to get the best return over time frame and may be a better investment in the long run.
Additional Resources at Jet Edge
We strive to publish as much information as possible to enable our customers to make the best decision for their specific needs. Visit our Blog Library located in our Resource Center to read about all things water jet and learn how others have managed through the selection process by visiting our Case Studies.
Compare Jet Edge to Any Manufacturer
How do you extract the maximum value from your cutting systems? By keeping them running at full capacity when you need them. Whether you are running around the clock or during a specific shift, you are losing money if your cutting equipment isn't performing at 100%.
When you are looking to expand into water jet cutting or evaluate your cutting technology options, we invite you to take a close look at Jet Edge. Compare us to any other water jet manufacturer and you'll see why our customers choose both our equipment and our post-sales support.
Remember, your relationship with Jet Edge does not end after the sale…that is when it just begins!
---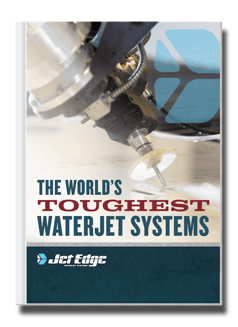 Check Out Our Digital Brochure!
Since 1984, Jet Edge has been designing and manufacturing Ultra-High-Pressure Water jet technology that doesn't back down. Our systems are used around the world in a broad range of industries from the world's leading airlines, to automotive, aerospace and industrial manufacturers, and machine job shops.
To learn more about the Jet Edge difference, our water jet motion systems, pumps and much more, click the button "Download Brochure" to get it now!