If you've purchased a water jet machine, you've invested pretty heavily into water jet or abrasive systems and you want to get the most out of your machine. However, before you get started, invest some of your time into doing some research around the right orifice and nozzle combination for your product and/or application. Perhaps nothing is more crucial to cut quality and speed than the right orifice and nozzle combination. But why is this combo so important? Let's explore.
The Mechanics of Water Jet Cutting Heads
When examining a waterjet cutting head and determining the right system for your product and/or application, it is important to note that several components work together to deliver the high pressure water stream once it leaves the pump:
The high-pressure water delivery valve

The water orifice

The abrasive feed inlet and mixing chamber (if abrasive cutting)

The nozzle (sometimes referred to as a focusing tube)
The orifice and nozzle you choose will regulate water pressure and flow, which in turn dictates the cutting rates and cut quality your water jet system produces. It is also critical to note, that the orifice and nozzle must be properly aligned to ensure a high quality, coherent cutting stream is delivered down the center of the nozzle/focusing tube. If the jet is misaligned and the stream deflects off the tube wall, the cut quality is diminished, and the life of the components will be dramatically shortened. Therefore, the right combo is not only important to the quality and speed of cuts, but all of the components must work together to extend the length of time required between maintenance intervals and controlling the costs of cutting.
Orifice Types
Orifices are classified by the type of jewel material used to direct the water stream. Typical materials are:
Sapphire

Ruby

Diamond

Synthetic material
Sapphire is the most common in the industry, however, diamond is increasingly popular due to its reliability, longer life, and lower operating costs in per hour usage over its lifetime. Ruby and Sapphire orifices are more prone to chipping, leading to diminished cut quality and shorter nozzle life – however they are both cheaper than diamond and synthetics.
Orifices are measured by their inner diameter (or ID) and are selected relative to the water flow capacity of the ultra-high-pressure pump, the number of orifices capable of being supplied by the pump, and the cutting application. When combined with an appropriate nozzle, a smaller ID provides greater precision for intricate shapes and a higher cut finish quality on thinner materials. A larger ID allows for greater water and/or abrasive flow and a faster cut. A general rule of thumb is to use a .014 orifice or larger when cutting materials ¾" or thicker on a consistent basis. For thinner materials, a smaller orifice would be more cost effective.
Nozzle Types
Similar to orifices, nozzles are rated by the material quality and process used to manufacture them. They generally come in four ratings:
Standard Life

Medium Life

Long Life

Extended Life
Nozzles come in various lengths as well with standard lengths being 2", 3", and 4". The higher the quality and longer the length the more accurate cuts you get over its lifetime.
When you've made your decision on the performance and accuracy you're looking for, you need to choose the right ID (again, inner diameter) to match the orifice selected. A larger ID allows for greater water and abrasive flow and provides for a faster cut. A general rule of thumb is getting an ID that is three times larger than the orifice ID.
Balancing Cutting Rates with Cut Quality
Cutting rates, measured in inches per minute (feed rate), is governed by water pressure and flow in GPM (gallons per minute). Larger orifice and nozzle IDs provide higher volumes of water and abrasive which speeds up cut rates. However, the quality of the cut is also impacted by the speed at which you cut and the orifice/nozzle combo. Material thickness and abrasive type will also factor into the balancing act between speed and quality. Your feed rate will ultimately be determined by the type of material, abrasive type, orifice/nozzle combo, and cut quality required. For the fastest cuts at the highest quality, using a larger orifice nozzle combo is ideal – however more water and abrasive flow is required.
Choosing the Right Orifice/Nozzle Combo
The decision regarding the orifice/nozzle combo domes down to a variety of factors (previously discussed) including:
Material thickness

Material type

Desired speed of the cut

Desired quality of the cut
To begin the process, decide the orifice jewel you are going to use and nozzle length. After that, consult an Orifice Size Table to size the Orifice based on water pressure and water flow required. The best way to determine what orifice/nozzle combo is best for your application is to build a Cutting Rate Table. To do this, begin a series of test cut metrics on your material that varies water pressure, garnet types and cut speeds. Balance these variables so that you maximize cut speed, cut quality and garnet consumption across a cut line. The Cutting Rate Table should be your initial benchmark for setups across that material type.
Remember, using high-quality orifices and nozzles combined with the right water and abrasive flow will provide the most consistent cuts and extended component lifetime.
Talk to Your Manufacturer
Building a Cutting Rate Table and educating yourself about the differences between the different nozzle/orifice combos is a great start. However, nothing beats the advice from a trained professional. Talk to your manufacturer about your material, the cut involved, and let them help you determine what's best for your product and/or application.
---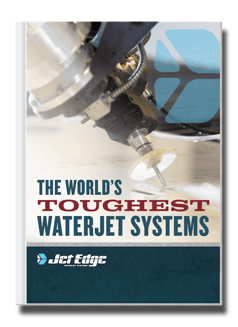 Check Out Our Digital Brochure!
Since 1984, Jet Edge has been designing and manufacturing Ultra-High-Pressure Water jet technology that doesn't back down. Our systems are used around the world in a broad range of industries from the world's leading airlines, to automotive, aerospace and industrial manufacturers, and machine job shops.
To learn more about the Jet Edge difference, our water jet motion systems, pumps and much more, click the button "Download Brochure" to get it now!