Every industry that requires precision-machined parts has its own set of unique manufacturing challenges. But it's safe to say the aerospace industry is especially challenging and demanding. Parts in the industry can require:
Extreme tight tolerances.
Extraordinarily complex shape geometries (5-axis vs 3-axis).
Small production runs.
Short-notice ordering.
Fines for discrepant or late deliveries
These characteristics create a very difficult manufacturing challenge which get magnified when aircraft are involved as component failures can result in the loss of life, payloads, aircraft or launch vehicles. In aerospace and defense, "close enough" results just aren't "close to good enough."
To overcome these challenges, many Companies are finding the capabilities of water jet cutting hold the solution.
Specialty Materials Present Machining Hurdles
The aerospace industry uses specialty materials for their unique properties including strength, weight, heat resistance, dimensional stability in extreme temperatures, resistance to corrosion and so forth. According to Brian Such, Vice President of Customer Support for the Swiss company, Marubeni Citizen Cincom, Inc.
"The most common fact in aerospace machining is the use of corrosion-resistant materials like Hastelloy, Waspaloy and MP35N. ("Aerospace Machining Solves Challenges Big and Small") Machining these materials require very rigid machine setups and rigid cutting methods."
Other components may use aerospace grades of aluminum (7075, 2024 and 6061), stainless steel, steel alloys (4140 and 4340), nickel-titanium (Nitinol), titanium (Grades 2 and 5) advanced plastics (PEEK, UHMW, Ultem®) and composites.
Unconventional Materials Require Different Cutting Solutions
Each of these materials has its own unique requirements for machine setup and cutting head selection. Cutting speed is important in advanced plastics to avoid heat deformation at high speeds or delamination at lower revs. Some materials dull cutting tools faster. Uncorrected, dull heads can reduce accuracy down the line and increase manufacturing costs through waste and increased tool replacement costs.
Depending on the design, materials may be heat-treated before machining to allow higher levels of precision but, this increases the material's hardness thereby increasing the machining difficulty. The heat produced during machining can negatively impact the heat treatment causing the component to fail to meet specifications. A solution is to machine the parts prior to heat treatment. However, post-machining heat treatment can affect accuracy.
Making Parts for the Aerospace Industry Demands Flexible Tooling
The number of parts an airplane or launch vehicle requires can be staggering; as can the range of sizes and shapes. From a tiny screw to a landing gear strut, producers of parts for the aerospace industry must have tooling and facility flexibility to produce the components.
Flexibility can come in the form of purchasing dedicated tooling for a specific material or component. Given the small runs common in the aerospace industry and the rapid pace of design and material evolution, this is an expensive and potentially risky approach.
There is a proven answer to the manufacturing demands of this industry, waterjet cutting. This cutting process is the only solution that can deliver these capabilities:
Any aerospace material can be cut without the side effects of heat deformation or delamination.
Precision equals or exceeds many if not most other machining technology.
Finer surface finishes reduce post-production clean-up.
Complex, 5-axis cuts are possible.
Issues with cutting tool wear on accuracy and costs are virtually eliminated.
Able to handle both small and large components using the same machine.
Precision and Repeatability
Tolerance specifications can be exceptionally tight. Compounding the manufacturing challenge of extreme accuracy is the intricate design of many parts. In the design process, engineers may create complex part geometries that use less material to reduce weight without sacrificing strength or impacting tolerances.
Weight reduction goals may increase material reduction rates (MRR) during machining, pushing material costs higher with the increase in scrap. Part nesting and castings can help eliminate waste but may require much more complicated programming. Complex geometries calling for beveling, chamfering and contouring may exceed the capabilities of 3-axis tools. In these cases, machining becomes a multi-step process unless you have a tool with 5-axis capability.
Manufacturing parts and components for the aerospace industry will push the precision capabilities of your tooling to the limit. Failure to meet any parameter or specification can lead to the rejection of the entire production run. At best, this may require rework. At worst, it may lead to heavy fines and scrapping of the parts.
The Benefit of Repeatability
It is common for aerospace components to have small quantity production runs. If you have the contract to manufacture these parts, this means more setups and tooling changes when you receive future orders.
So, once the ​CNC tooling parameters are set and meet all engineering specifications, being able to load that setup for each future run is a tremendous benefit. It reduces prep time and allows you to provide your customer with a faster turnaround. It also reduces production costs and risks.
But how confident are you that reloading the last successful setup program will produce the same results? As already mentioned, machine and cutting tool wear can impact accuracy. Did the tooling develop any wear while turning out other parts that might impact accuracy now? Unless the tool sat idle between runs, you may incur additional setup time to ensure the tool is able to deliver the same results.
Waterjet cutting doesn't suffer from wear and other manufacturing issues. Once the parameters are dialed in, the setup for the next run is faster. Not changing tooling instructions also eliminates the potential for error. Waterjets deliver shorter setup times, rock-solid repeatability and unwavering accuracy.
Speed of Manufacture - Reduced Setup Times Suits Small Lot Production
Water jets are ideal for small run quantities. No custom tooling or cutting heads are required, so procurement delays for specialty equipment aren't an issue. You acquire the specified material for the part, select the proper orifice/nozzle, load the right abrasive for the cut, feed the programming to the tool and start machining. All this leads to reduced setup times and a corresponding reduction in order turnaround.
And if your water jet solution has 5-axis capability, part complexity is a significantly reduced issue. Large parts, small parts, simple or complex, small-lot production – water jets are probably the most versatile tool you can place on your production floor.
Add Prototyping to Your Service Menu
Water jet systems offer the fastest time from CAD concept to finished part. When engineering teams are constantly innovating and changing designs and materials to gain performance and competitive advantages, being able to quickly turn a concept into a finished part is a critical advantage.
Prototyping components in days rather than months allows engineers to experiment with different material and design combinations. With physical samples in hand, they can subject them to tests in their facilities to see which combination best meets design requirements.
Full-scale Manufacturing or Small Run Tooling - Or Both?
If prototyping is of interest, using your full-scale production tools isn't cost-effective. It's like taking a sledgehammer to a thumbtack. Instead, consider the benefits of water jet cutting. These systems are flexible, easy to set up and run and are capable of both prototype-sized runs and producing at scale. Plus, these tools can cut any material you throw their way.
This type of flexibility and capability equips you to become a vital member of the design engineering team. Prove your capabilities on complex, exotic material prototypes and you likely secure your position for the production of the final components. Do it with a tool that is very cost-effective and supports short turnarounds, and you have added a new market to your business.
Advantages of Water Jet Systems over Alternate Cutting Methods
5-axis Capabilities
The current generation of water jets from Jet Edge has a 5-axis option for the most demanding and complex cuts. Bevels up to 60o, chamfers and contour cuts are possible with these cutting heads. The image below identifies the 5-axes, X, Y, Z, A and C. You can read more about the advantages of 5-axis cutting here.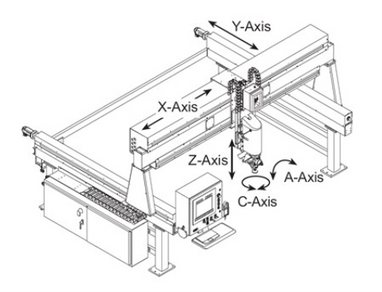 Eliminate Heat Damage to Your Aerospace Industry Parts
Water jets do away with concerns of heat damage to the stock materials during machining. All materials are susceptible to heat damage during machining, some more than others. Lasers and plasma cutters are the obvious offenders in this area because they use heat to cut. You can read more about the effects of plasma cutting here. But even CNC machine tools generate heat; heat that can damage the material and create a heat-affected zone (HAZ) at the cut lines.
In the HAZ, heat treatments, tolerances, and surface blemishes/damage/distortion are common. HAZ issues may require post-cutting processing to meet specifications, adding expense and time to the production run. Other HAZ-related issues may result in scrapping parts and starting again. More unnecessary expense and delay. Water jets by the nature of their cutting technology do not produce damaging heat during cutting and machining, making them ideal for situations where creating a HAZ is especially problematic.
Looking for a Manufacturing Advantage for Your Aerospace Customers?
If you are looking to improve your processes for making components for your aerospace industry customers, or are considering entering the market, talk with Jet Edge today. We have extensive experience in the aerospace market and offer the most advanced 5-axis water jet systems on the market. We are great "Partners in Aerospace"!
​Contact us or fill out the form below to download our brochure. We'd love to start a conversation on how we can improve your bottom line.
---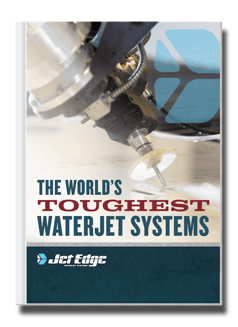 Check Out Our Digital Brochure!
Since 1984, Jet Edge has been designing and manufacturing Ultra-High-Pressure Water jet technology that doesn't back down. Our systems are used around the world in a broad range of industries from the world's leading airlines, to automotive, aerospace and industrial manufacturers, and machine job shops.
To learn more about the Jet Edge difference, our water jet motion systems, pumps and much more, click the button "Download Brochure" to get it now!