Anyone looking to add qualified and motivated employees has discovered that the labor pool is tighter, smaller and shallower than ever before. Putting it mildly, it is a frustrating dilemma.
Your customers are trying to grow their businesses and need quality CNC machined parts to feed their production processes. You need employees to operate your water jet cutting machine to meet this demand, and perhaps you are considering adding shifts to grow your own business.
But without the proper labor, how can you make this happen? Well, have you considered implementing a lights-out water jet cutting strategy? Maybe it's time.
What is Lights-Out Cutting?
The "lights-out" concept means using your production assets during off-hours, typically overnight and on weekends. This strategy derives its name from the fact that the lights are usually off during these hours.
This strategy is especially useful for long-cut jobs. These jobs can involve extremely complex cuts or can be a large run of identical components. These production cuts can take eight hours, or longer, making them ideal for overnight processing.
Think of the flexibility this capability could give you. You could increase the utilization of your water jet cutting assets, using automation rather than employees. These same machines would be available during shifts with workers present so that expensive labor resources aren't idle waiting for a cut to finish. You could also run standard parts for stock rather than to order, giving you the ability to meet demands faster than a competitor.
Requirements for a Successful Lights-Out Cutting Strategy
There are two requirements to support any lights out strategy: first, proper automation and control software for the water jet cutting machine and, second, reliable machine monitoring, shutdown and alert capabilities.
To allow you to confidently utilize your water jet cutting machines in this unattended mode, your system software needs to be fully programmable with specific functionality to regulate and monitor water pressure and abrasive delivery.
Once configured, this software enables you to load the program, place the material, hit the start button and let the machine do the rest. No operator interaction is required as all the operating and cutting parameters are digitally fed to the machine.​
To avoid a Sorcerer's Apprentice situation developing with your lights out operations, you need the proper process monitoring controls and shutdown procedures. Our lights-out package monitors both pump pressure and the abrasive stream. Any variation or disruption of pressure or abrasive stream parameters that can compromise the cut quality will automatically stop the cutting operation and send an alert to your on-call operator, allowing prompt intervention. This safety system prevents machine and material damage and loss of expensive stock.
What happens next? In the morning, your first shift collects the finished parts and sets up the machine for the day's projects. Your lights out water jet cutting strategy has significantly increased your asset utilization and production output without requiring additional staff.
Laser Mapping and Height Sensing
Not all the material you cut or would like to cut will have a pristine, perfectly flat surface. Even minor imperfections in the material's surface can impact the quality of the cut. Our solutions use laser mapping and material height sensing to automatically adjust the cutting nozzle's distance from the surface. So, regardless of imperfections, the quality of your cut is consistent from start to finish.
Talk to Jet Edge About Lights-Out Water Jet Cutting Solutions
Because we strongly believe in the potential of this strategy, all Jet Edge products are configurable for lights-out cutting with the appropriate controls and software, customized to your needs.
If you think your business could benefit from lights-out cutting, contact us or call toll-free at 1-800-JET-EDGE (538-3343. International callers can reach us at +1-763-497-8700.
If you prefer, you can request an application analysis (scroll to the bottom of the page) or learn more about Jet Edge.
---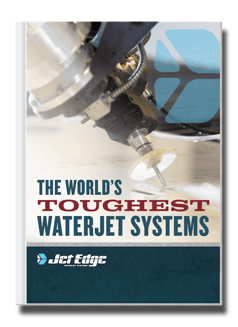 Check Out Our Digital Brochure!
Since 1984, Jet Edge has been designing and manufacturing Ultra-High-Pressure Water jet technology that doesn't back down. Our systems are used around the world in a broad range of industries from the world's leading airlines, to automotive, aerospace and industrial manufacturers, and machine job shops.
To learn more about the Jet Edge difference, our water jet motion systems, pumps and much more, click the button "Download Brochure" to get it now!