In the hands of a skilled operator can achieve exceptional levels of accuracy. However, this production method suffers when it comes to repeatability. Even the steadiest hands cannot produce identical parts every time.
Today, digital control systems powered by computer-aided design (CAD) and machine tool control software enable tool users to achieve unprecedented levels of accuracy with spot-on repeatability for every part.
Measures of Cutting Tool Quality
Like any other cutting solution, the accuracy and repeatability of the output from water jet cutting tools depend upon the control systems guiding the tool. The key differences with water jet control systems include the ability to specify:
Material type and thickness.
Type of cut being executed such as lead-in, pierce, bevel or straight.
Abrasive media type and cutting water pressure.
Type and finish level of the final cut necessary for the next step in the tooling or production process.
Water jet control systems are fed the program for the parts to be cut, and through digital signals to the tool, orchestrate the movement of all components to achieve the desired results. This last part is especially critical; all the components that carry out the program's instructions must work in harmony. While an obvious expectation, achieving this harmony is a challenge. Let's explore what it takes to execute this flawless coordination.
Computer-Aided Design (CAD) Software
Accuracy is established via a foundational piece of the control process, computer-aided design (CAD) software. Engineers use these programs to produce a complete plan for the production of a part. When complete, the design is converted to machine language and generates a CAM (Computer Aided Manufacturing) file utilizing machine code specifically tailored to water jet control systems.
The following content from Wikipedia provides a high-level look at CAD software:
CAD software for mechanical design uses either vector-based graphics to depict the objects of traditional drafting, or may also produce raster graphics showing the overall appearance of designed objects. However, it involves more than just shapes.
As in the manual drafting of technical and engineering drawings, the output of CAD must convey information, such as materials, processes, dimensions, and tolerances, according to application-specific conventions.
Turning Code into Finished Parts
Modern water jet control systems must accept a variety of CAD file types generated by a range of software providers. The files are used to create the cutting plan that powers the tool through the production process. Let's take a look at how the CAD process works in water jet cutting:
Engineers create the CAD file and make it ready for use by the cutting control system.
Shop floor technicians upload the file to the water jet control systems.
Additional setup may be required, including loading the cutting stock material, checking for proper abrasive and other pre-production steps.
Once powered up, the control system diagrams the cut and hands off the process to the water jet control system for execution.
IGEMS CAD/CAM Software
Jet Edge water jet control systems use the CAD/CAM (computer-aided manufacturing) software from IGEMS. This powerful software package allows Jet Edge water cutting systems users to create and view the entire finished product, trace cuts, and more. The software supports 3D model importing and, of course, conversion of designs to machine code our tools can read and execute.
Also, IGEMS is recognized as the best CAD/CAM software for nesting. Nesting is where the software takes the part or parts to be cut and lays them out on the stock to minimize material waste.
The IGEMS website offers two short videos detailing the 5-axis and complex cutting capability of their software. When driven by this capable, industry-leading program, your Jet Edge water jet cutting tools can cut complex shapes other cutting options cannot.
Industrial PCs - The Software's Host
Equally crucial to the process of achieving maximum accuracy and repeatability with your water jet control systems is the industrial PC. If you are unfamiliar with these devices, they have a form factor much different from the workstation or laptop used in office settings. These are specially designed and "ruggedized" to survive a manufacturing environment where there may be water, dust, vibration and other factors a standard PC never experiences. As you would expect for water jet cutting applications, resistance to liquids and moisture is crucial.
Industrial PCs can be considered part of Industry 4.0 or the fourth industrial revolution. Like the Internet of Things is automating home and office environments, this movement revolves around automating industrial processes using purpose-built programmable logic controllers (PLCs) and PCs.
An advantage of using a PC for executing water jet cutting processes is the relative ease of networking and connecting both inside the manufacturing process and to the internet. Also in the industrial PC's favor is the ability of existing IT staff to integrate and support connectivity and manage OS patches and upgrades.
Complete Control of Cutting Heads
The PCs control every aspect of the cutting process, executing the machine code from the CAD/CAM file. These devices can manage every aspect of the cut, including:
The speed of the cutting head(s).
The angle of the cut.
Water pressure for the cutting head(s).
The flow rate of the abrasive media, if used.
Unique cut features like piercing or beveling in 5-axis applications.
Cutting head tilt compensation for deep material cuts.
This degree of control enables the water jet cutting tool to excel in especially demanding cuts on a wide range of materials other cutting alternatives just cannot match.
Integrated Drive Components - Where the Code Meets the Tool
What would you say is the fundamental determining factor of accuracy and repeatability in a cutting process? It has to be cutting head alignment. Even the most precise control of water pressure, abrasive flow and other cut parameters won't produce the specified results if the cutting tool's components that perform the head positioning are substandard, worn or otherwise incapable of meeting cut parameters.
The Jet Edge Answer
Every Jet Edge water jet cutting solution incorporates the following carefully engineered features to deliver the accuracy and repeatability you and your customers demand. Here are a few of the features our cutting solutions offer that set Jet Edge apart from its competitors:
Anti-backlash, recirculating ball screws with direct-coupled, AC brushless servo motors. Absolute encoders complete the setup and ensure positive (position?) accuracy.
Linear bearing and hardened precision ground ways deliver perfect repeatability.
An isolated catcher tank ensures no vibrations from the cutting surface are transferred to the cutting head, optimizing finish quality.
How Do My Water Jet Control Systems Impact My Cuts?
This is a great question to wrap up this article. Think of it this way, water jet control systems are the brains of the cutting tool. They tell the cutting tool and its components what to do and when to do it every step of the way through the cut. Each operating, design and quality parameter can be programmed and executed by a meticulously designed control system. This demands powerful, capable and upgradable controllers, including industrial PCs and PLCs. Jet Edge has partnered with Beckhoff, considered one of the best controls experts in the industry.
Since you are entrusting your accuracy and repeatability standards to your control system, you want a robust and field-proven set of software that allows you to specify every detail of each cut. You also want software from a responsive provider who supports their product 24-7-365.
There is always a struggle between the first cost and the quality of the system's execution components. Skimping on controllers, motors, the precision and durability of positioning components, and other elements may get your water jet control systems in the door for less; however, these aspects of the system you install directly impact cut accuracy and repeatability over time. Skimping in these areas creates maintenance and quality issues down the road.
Water Jet Control Systems are a Long-Term Investment - Don't Settle for Less Than the Best
When investigating water jet control systems for your operations, be sure you insist on quality control system components throughout the solution. The decisions you make today will be with you for years to come.
Jet Edge has the best water jet control systems on the market when paired with our robust and innovative cutting tools. If your goal is to maximize accuracy and repeatability, you owe it to yourself to contact us. You can also reach us by phone toll-free at 1-800-JET-EDGE (538-3343) or internationally at +1-763-497-8700.
---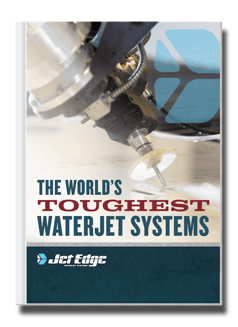 Check Out Our Digital Brochure!
Since 1984, Jet Edge has been designing and manufacturing Ultra-High-Pressure Water jet technology that doesn't back down. Our systems are used around the world in a broad range of industries from the world's leading airlines, to automotive, aerospace and industrial manufacturers, and machine job shops.
To learn more about the Jet Edge difference, our water jet motion systems, pumps and much more, click the button "Download Brochure" to get it now!