Adding a CNC water jet cutting machine tool to your operations is a smart move. The water jet can cut a wider variety of materials in greater thicknesses with less post-cut clean-up than other alternatives such as laser and plasma cutters. There are several factors to consider that will maximize your abrasive cutting productivity and your investment.
Maximizing Your Investment
When determining the capabilities and capacities of your CNC water jet cutting machine tool, pay particular attention to the following four areas. Optimizing these four will set you up to maximize your abrasive cutting tool productivity.
Expand or increase the range of materials you can cut.

Specify the largest cutting table size available space allows.

Add nesting and common line cutting capability.

Set up for lights-out/unattended cutting.
Broaden the Range of the Materials You Cut
When you invest in a CNC water jet cutting machine tool, you have taken the first step towards significantly expanding the types and thicknesses of materials you can cut and machine. Think of the different markets and customers you can serve when you remove the material type and thickness limitations of your non-water cutting tools.
Cut Nearly Any Material
So, what materials can water jet tools cut? The list of materials includes steel and specialty alloys, granite, glass, composites, foam, wood and, unbelievably, food. Since water jets are a "cold-cutting" technology, they can cut materials that "hot cutting" technologies cannot because the heat from the cutting process damages the material. Also, cold cutting doesn't leave cutting residue on the face of the cut parts that require post-cut processing to remove.
Cut Thicker Materials
Hot-cutting and shearing cutting technologies are unable to match the thickness capabilities of water jet tools. With the proper combination of cutting nozzle, abrasive and water pressure, a water jet can cut a 6" stainless steel plate and a 20" aluminum block - well outside the capabilities of the other options.
Utilize Nesting and Common Line Cutting
There are two techniques that allow you to maximize sheet utilization: nesting and common line cutting. Nesting is a software-driven process where a CAD/CAM package lays out parts in a manner that optimizes material utilization. Rather than cutting one part on a sheet, the software "nests" like and unlike part sizes together. Jet Edge uses IGEMS CAD/CAM software to accomplish this material optimization process. IGEMS has the reputation of offering the best nesting solution for CNC water jet cutting machine tools.
Common line cutting is a technique of creating a cutting plan where parts share a common edge. It is the precision, quality of the finished cut and absence of cutting residue deposition that enables your CNC water jet cutting machine tool to accomplish these material-saving cuts. As with nesting, common line cutting contributes to maximum sheet utilization and the abrasive cutting productivity of your water jet investment.
Lights-Out, Unattended Cutting
The fourth area of consideration is adding lights-out, unattended cutting capability to your CNC water jet cutting machine tool. As the name of this technique suggests, you set your water jet to cut overnight or on weekends, times when your production floor is unoccupied, and the lights are off.
This capability requires a combination of reliable tool control and process monitoring. The IGEMS software is capable of providing the water jet cutting tools with all the necessary cut parameters such as abrasive media type, water pressure and cut angles.
Process monitoring and alarm notification functionality are required for a safe and successful lights-out operation. You need the ability to monitor all the process and cutting parameters so that if anything goes out of spec to a degree that the stock or tool will be damaged, an alarm is immediately triggered, and the system pauses the cutting process. The alarm notifies your on-call technician so they can respond and is logged in the event registry along with supporting data for failure analysis.
Using your water jet cutting tool in a lights-out application is an outstanding way to maximize your abrasive cutting productivity by letting the tool run outside normal shift hours. It is also an excellent way to manage long and complex cuts that take hours (8+) to execute. And, in today's tight labor market, lights-out cutting automation extends your operating hours without adding people.
Jet Start Your Abrasive Waterjet Cutting Now!
The Jet Start 510A and 510A5 abrasive cutting systems get you into the game right out of the box. Paired with a 50HP Hero Series Intensifier pump, these 5 x 10 tables give you 3 axis and 5 axis cutting that won't back down. Click the button below to learn more, contact us, and download spec sheets!
Jet Edge has been leading the CNC water jet cutting machine tool revolution since 1984. With our wealth of experience and history of innovation, we can help you maximize your abrasive cutting productivity, whether you are acquiring your first water jet tool or are an old hand.
​Contact us today to learn how offering your customers more material cutting and machining options is an excellent way to expand your opportunities and grow your business. You can also reach us by phone toll-free at 1-800-JET-EDGE (538-3343) or internationally at +1-763-497-8700.
---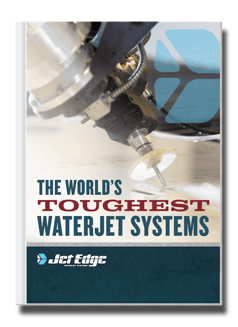 Check Out Our Digital Brochure!
Since 1984, Jet Edge has been designing and manufacturing Ultra-High-Pressure Water jet technology that doesn't back down. Our systems are used around the world in a broad range of industries from the world's leading airlines, to automotive, aerospace and industrial manufacturers, and machine job shops.
To learn more about the Jet Edge difference, our water jet motion systems, pumps and much more, click the button "Download Brochure" to get it now!