For many materials, waterjet cutting and abrasive cutting systems are used to cut in two dimensions – across the X and Y planes. In most of these applications, the Z axis the cutting head is mounted to remains fixed in the down (cutting) position while cutting, rather than moving up and down while it cuts as you would expect to see in more traditional CNC machining operations involving a cutting bit. While this type of waterjet cutting and abrasive cutting processes are often referred to as 3-axis cutting, it is actually limited to two-dimensional space.
Despite the misnomer related to 3-axis machines, these types of waterjet systems offer a wealth of potential and advantages over other cutting operations, including manual cutting and even more expensive 5-axis machines. Let's explore the different types of 3-axis waterjet and AbrasiveJet systems and their respective benefits.
Water-Only 3-Axis Systems
Waterjet systems that offer 3-axis cutting using ONLY water are often the most affordable machines available. Water-only systems are ideal for basic materials such as rubber, foam, textiles, etc. that do not need an abrasive to perform the cut. These systems offer many benefits, including:
Affordability: Water-only 3-axis cutting systems are among the least expensive waterjet machines. With a reduced up-front cost and lower cost of ownership, these machines are great entry-level pieces of equipment.
Speed of Cut: The high pressure water stream produced cuts materials very fast with virtually no set up. Multiple water jet cutting heads can be added to increase productivity exponentially.
Ease-of-use: Water-only cutting systems are often easier to program and operate than more complex machines. This means that the initial learning curve is greatly reduced when compared to other types of machines. Setting up cut programs is often less time consuming as well.
Versatility: Many 3-axis cutting systems that use just water offer the flexibility to incorporate multiple cutting heads. This means that multiple cuts or parts can be completed simultaneously.
These benefits, while valuable to many businesses and applications, do come with caveats. 3-Axis Water-only machines are more limited in the range of materials they cut and are not capable of performing more complex cuts such as bevels and variable angles a 5-axis machine is capable of. To learn more about 5-axis cutting, visit our Resource Center and select our blog post "The Advantages of 5-Axis Waterjet Cutting Machines."
3-Axis Abrasive Jet Systems
Instead of using just water as a cutting agent, 3-axis abrasive systems add garnet to the mix. To learn more about garnet in waterjet cutting systems, read our recent blog post "How to Choose the Right Garnet Abrasive for Your Application."
These types of waterjet systems offer all of the same cutting ability in terms of motion along the X, Y, and Z planes, but the similarities end there. Abrasive 3-axis cutting machines differ from water-only machines in the following ways:
Cutting capability: Adding an abrasive like garnet to the cutting stream enables waterjet systems to cut thicker materials at faster rates of speed. This means that 3-axis abrasive systems can be used for a wider range of applications, especially those involving thicker and denser materials. It also means that these types of machines are more efficient in executing cutting programs.
Cutting Head types: Abrasive 3-axis cutting systems require specialized cutting heads capable of supporting the flow of garnet and water. These heads can be more expensive and require additional maintenance.
Support systems: Abrasive waterjet systems usually incorporate additional equipment to support operations, including bulk hoppers, garnet removal systems, and other environmental equipment. These additional equipment requirements must be considered when planning an investment into an abrasive waterjet machine.
While they are more expensive, both in initial investment and operation, the expanded cutting capability offered by abrasive systems can broaden the range of applications and make them the better investment.
Hybrid and Custom 3-Axis Systems
For businesses wanting to get the most of their waterjet cutting systems, a hybrid approach may be the answer. Waterjet systems can be purchased with dual heads – one that uses just water and another that incorporates abrasive. These machines offer the best of both worlds and broaden the types of materials that can be cut – all without the need to change cutting heads.
Another way to ensure the best fit for your application is to build a custom waterjet system. To learn more about custom waterjets, read our article on this topic "Custom Application or Custom Configuration – What's the Difference?"
Which 3-Axis Machine is Right for You?
Choosing the "right" 3-axis waterjet cutting system for your needs isn't always easy. There are a lot of factors to consider, including your intended application, future needs, budget and more.
The best way to identify your ideal waterjet system is to talk to your Jet Edge Sales and Application Partner. This expert can provide the insight you need to understand the real-world benefits and advantages of each type of machine as well as provide you case study information to help you learn how others addressed similar challenges. This information can make all the difference in helping you make a sound decision on your waterjet investment.
At Jet Edge, our experts are here to help you learn all there is to know about your waterjet cutting system options. We'll even help you analyze your intended application to identify the best possible fit for your unique needs. Schedule an application analysis today to begin identifying the best fit for your waterjet needs.
---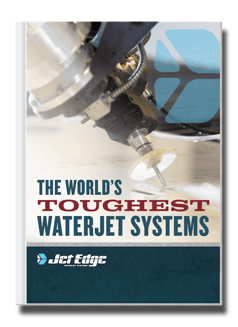 Check Out Our Digital Brochure!
Since 1984, Jet Edge has been designing and manufacturing Ultra-High-Pressure Water jet technology that doesn't back down. Our systems are used around the world in a broad range of industries from the world's leading airlines, to automotive, aerospace and industrial manufacturers, and machine job shops.
To learn more about the Jet Edge difference, our water jet motion systems, pumps and much more, click the button "Download Brochure" to get it now!