Abrasive water jet cutting offers a broader range of cutting options than any other single machine tool. No competing technology cuts as many material types in as many thicknesses to the precision of a water jet cutter. Whether you are cutting thick aluminum slabs, specialty metals like stainless steel or Inconel, stone, glass, or composite materials, water jet systems can cut materials to very precise dimensions with great edge quality and incredible efficiency. Water jet systems also have the flexibility of 3 dimension contoured cutting options when using a 5-axis water jet system over a more traditional 3-axis water jet system.
In this post, we'll go over the different component options that make up a complete abrasive water jet cutting system beginning with the water that starts the process.
Looking for some tips on purchasing a water jet system? Our Buyer's Guide to Purchasing Your First Water Jet Cutting System walks you through the key considerations required to select the right option.
1. Water and Water Quality
Process water quality is measured by the impurities found in the water. Total Dissolved Solids, high silica contents, high PH levels all create abrasion in your high-pressure systems. Since water quality varies greatly city to city and by geographical region a water quality analysis should be performed. Various methods including water softening, deionizing (DI) or reverse osmosis (RO) may need to be employed to improve water quality and pump performance. Contact Jet Edge if you require assistance in this area.
2. Required Utilities
Water jet systems require certain shop utilities in order to enable the full capabilities and proper operation of the system.
Electric Power

: The standard electrical requirement is a 480V AC, three-phase power source. Consult your manufacturer for other options.

Low-pressure Process Water Supply

:

The standard requirement for a 50 horsepower pump is 2.1 gpm (7.9 lpm) @ 30 psi (2 bar) min. Higher pressure pumps

require additional water flow.

Filtered and Dry Air Supply

: Required input of 80–90 psi (5.5–6.2 bar) and flow of 6 cfm (170 L/m) minimum. Certain options (e.g., air regulated bladder tanks) may require higher flow rates

Drainage:

Access to a water drain is required for overflow discharge from the intensifier pump and from the catch tank unless

you are utilizing a closed loop filtration system.
3. Bulk Abrasive Hoppers (abrasive systems only)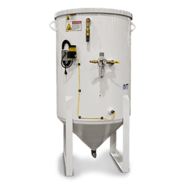 A Dense Phase Hopper Abrasive Delivery System is the most common system used in a factory environment to hold bulk abrasive.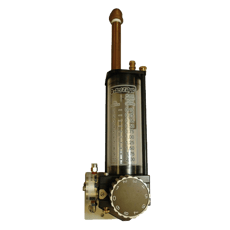 The hopper is pressurized and delivers an even flow of abrasive, essential to achieving reliable cutting results, to the metered abrasive hopper mounted at the cutting head. A low-level warning signal prompts the operator to fill the hopper so there is no garnet flow interruption. The hopper is suited for single or multiple head cutting and the large capacity is ideal for industrial lights-out cutting ensuring garnet delivery is not interrupted for long unattended cutting periods.
4. Abrasive Removal Systems (abrasive systems only)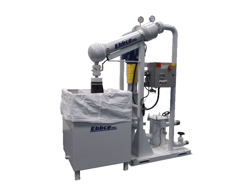 The spent garnet accumulates and settles at the bottom of a water jet's catch tank. Over time, the garnet will fill the tank, slowly displacing the water. If the garnet is allowed to reach the slats suspending the work piece, the water stream will splash against it and cause surface damage to the part being cut. At this point the system must be taken off line, the tank emptied and the spent garnet removed. An abrasive removal system incorporates a sweeper package at the bottom of the tank, sucking out the suspended garnet as it falls to the bottom and delivers it to a settling tank placed alongside the water jet. The water seeps through the settling tank's filter bag, leaving the spent garnet captured in a bulk bag for garnet disposal. The system is safer and reduces downtime and catch tank maintenance.
5. High-Pressure Pump Cooling Loop Chillers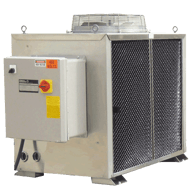 The High Pressure Pump Chiller works with the pumps heat exchanger to cool the hydraulics of the intensifier pump. A chiller is often used when the pump is working for prolonged periods and the ambient temperature of the room further impedes heat exchange. The "Loop" cooling, continuously chills and recycles the water without discharging it to the drain. The cooler water temperature improves pump performance and maximizes seal life. There are a range of chiller sizes, 36,000-240,000 BTU for your pump and environment.
6. Closed Loop Recycling Systems and In-Line Chillers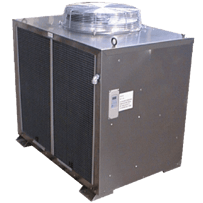 Water jets require a continuous water stream to power the cutting head. The excess water accumulates in the catch tank and often the overflow slowly drains off into the city water system. In contrast to dumping the water, a Closed Loop Filtration System captures it, filters it, chills it with an In-Line Chiller, and returns it to the pump completing the recycling system. Closed Loop Filtration Systems reduce water and sewage costs, prevents the introduction of hazardous materials into drainage systems, eliminates the need for a drain and provides a chilled stream of clean water to start the process again. Visit our blog to learn more about recycling water.
This is Complex. We Get It - We're Here to Help
Jet Edge has done hundreds of installations and can walk you through each of these options to make sure your system is configured to your needs! We also strive to publish as much information as possible to enable our customers to make the best decision for their specific needs, so visit our Blog Library located in our Resource Center to read about all things water jet. Additionally, have a look at our Case Studies and learn how others have managed through the selection process.
Visit our website to learn how to get the most out of https://jetedgewaterjets.com/jetedgewaterjets-com-site-navigation-resources/
Talk to Jet Edge
Contact us today to learn how to increase your service offering to your customers. You can also reach us by phone toll-free at 1-800-JET-EDGE (538-3343) or internationally at +1-763-497-8700.
---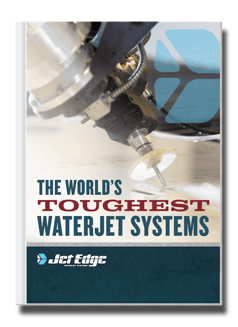 Check Out Our Digital Brochure!
Since 1984, Jet Edge has been designing and manufacturing Ultra-High-Pressure Water jet technology that doesn't back down. Our systems are used around the world in a broad range of industries from the world's leading airlines, to automotive, aerospace and industrial manufacturers, and machine job shops.
To learn more about the Jet Edge difference, our water jet motion systems, pumps and much more, click the button "Download Brochure" to get it now!