Everyone understands the value of timely routine maintenance for all high-precision cutting and machining tools, including waterjet cutting equipment and high pressure pumps. Done correctly, per a recommended schedule, you experience higher uptime and lower total maintenance expense which provides a higher ROI on the tool's investment.
To establish or predict when a routine maintenance process should be performed, companies analyze MTBF (Mean Time Between Failure). This process of predicting failure is generally referred to as Predictive Maintenance (PM). Another concept used in manufacturing is Visual Management (VM). Visual Management is a way to communicate information quickly (visually) in as close to real time as possible in order to analyze the state of a process.
How is Visual Management Used in Predictive Maintenance?
VM is an important component of Lean Manufacturing. It provides a visual form of communication that is used to convey snapshots of process performance clearly, succinctly and as close to real time as possible. VM communications may take many forms such as whiteboards and sticky notes, shadow boards for tools, Andon Boards for line pacing, Kanban squares for demand pulling and a whole host of additional ways. Workers can compare the VM snapshot to real-time process output and quickly identify process status and subsequent issues.
My Ultra High-Pressure Pump is Either On or Off, Right?
Intensifier pump configurations are complex and can include single, dual and redundant intensifiers capable of operating at a wide range of pressures up to 65,000 PSI, all driven by unique hydraulic systems using 30, 50, 100, 150 or 200 horsepower (HP) motors.
Since you cannot see the intensifier pump pistons operating, you cannot visually confirm by looking at the pump that they're synchronized and delivering the intended pressure at the nozzle. With a keen enough ear, and plenty of experience, an operator might be able to pick up issues audibly, but that leaves a lot to chance on a noisy shop floor wearing proper hearing protection.
A dual intensifier pump system is even more complex to balance and maintain correct pressures over the entire cut. Operators need a real-time, unambiguous display alerting them to issues that affect cut quality, such as incorrect or drifting pressures, incorrect setup, a leaking seal or failure of a high-pressure line.
You wouldn't drive your car or truck without a speedometer to keep you at legal speeds. You'd also want to know how much fuel (gas, diesel or charge) you have left, what the tire pressures are, what gear you're in and a myriad of other important vehicle status and health information. That's why vehicles come with dashboards, allowing drivers to see status data and potential issues at a glance.
Jet Edge's JetSmart Controls are the dashboard for your Jet Edge intensifier pumps. Its Run Screen simplifies VM, presenting real-time status information for your Jet Edge intensifier pumps in a clear, concise and unambiguous display. JetSmart enables operators to monitor critical, cut impacting and system health details while the cut is in progress.
For example, JetSmart displays high and low-pressure set points (#13 and #15) and the real-time intensifier pumps delivery pressure (#10 and #11). Variations are immediately visible, allowing the operator to take appropriate actions. The alternative? Finding out there was a problem when quality control rejects the workpiece as out of spec.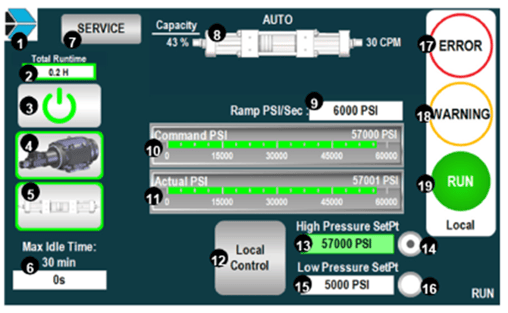 Run Screen Controls
| | | |
| --- | --- | --- |
| # | Item | Description |
| 1 | Screen Navigation Menu Button | Access to menus for navigation to other screens. |
| 2 | Total Runtime Indicator | Indicates the hours the Intensifier Pump has been running in its lifetime. |
| 3 | Controls Power Icon | Toggles Controls Power On/Off. The icon will illuminate green when the Control's power is on. |
| 4 | Motor Icon | Starts/Stops the Hydraulic Pump Motor. Icon border will illuminate green when the Hydraulic Pump Motor is on. |
| 5 | Intensifier Icon | Starts/Stops the Intensifier Pump. Icon border will illuminate green when the Intensifier Pump is on. |
| 6 | Max Idle Time Indicator | When the intensifier is pressurized but the plunger is not cycling (dead head condition) for 5 seconds, the Max Idle Time timer will begin timing. |
| 7 | Service Screen Button | Navigates to the Service Screen (only when in Service User Level). |
| 8 | Intensifier Pump Status Display | Displays the current state of the Intensifier (Auto/Idle). Graphically displays the position of the Hydraulic Piston. Displays current Intensifier Pump cycle rate as well as Cycling Capacity. |
| 9 | Pressure Ramping Value | The rate at which water pressure is increased until reaching the desired pressure setpoint. |
| 10 | Command PSI Indicator | Displays the water pressure being requested by the controls in real-time. |
| 11 | Actual PSI Indicator | Displays the water pressure being produced by the Intensifier Pump in real-time. |
| 12 | Local/Remote Control Button | Toggles between Local and Remote-Control Modes. |
| 13 | High Pressure Set Point Value | Displays the current High-Pressure Set Point. |
| 14 | High Pressure Mode Selector | Click the radio button to select High-Pressure Mode |
| 15 | Low Pressure Set Point Value | Displays the current Low-Pressure Set Point. |
| 16 | Low Pressure Mode Selector | Click the radio button to select Low-Pressure Mode |
| 17 | Error Indicator | Indicates an error is present when illuminated red. Touching the icon brings up the Errors Screen. |
| 18 | Warning Indicator | Indicates a warning is present when illuminated yellow. Touching the icon brings up the Warnings Screen. |
| 19 | Run Indicator | Indicates the Intensifier Pump is currently running when illuminated green. |
The JetSmart system enhances VM further with warning and error indications (#17 and #18). When one of these icons illuminates, the operator presses it and immediately sees the Errors or Warnings screen. For a complete listing of the JetSmart Run Screen Controls, download our brochure here.
To learn more about Jet Edge Smart Controls, click here.
Predictive Maintenance
Implementing VM with JetSmart Controls delivers real-time information enabling real-time responses to issues. But does it also help predict problems allowing operators to take corrective action before a failure? Is there a predictive maintenance in water jet systems approach to head off problems before the tool fails? Gremlins and Murphy will strike in the middle of the most important job on the floor, right?
So, what do you do to keep those mythical characters and concepts at bay, minimizing downtime, maximizing runtime and ROI? Let's explore.
Predictive Maintenance as a Concept
The goal of a predictive maintenance (PM) strategy is pretty straightforward; identify impending problems and correct them before a failure occurs. Manufacturers assign a reliability and ruggedness rating to their tools and critical components, Mean Time Between Failure (MTBF). The MTBF concept tells operators approximately how long they can expect a tool to run before a specific component fails. This rating is helpful information when formulating a PM plan for tools or components like intensifier pumps.
Tracking Runtime
A key data point in MTBF plans is runtime expressed in hours. After pencil and paper, the mechanical indicator was the earliest form of tracking runtime. You've seen them; they look like older style odometers and serve the same purpose, alerting you that it's time to perform some prescribed maintenance.
However, runtime on its own is an inadequate PM strategy, especially in high-value and high-precision water jet systems. After all, the M in MTBF is a statistical estimate derived from a range of values. Some components will fail at the lower end and others at the upper. You need more information to implement an effective predictive maintenance plan for your water jet systems.
JetSmart Controls and PM
JetSmart Controls supports a robust and effective PM strategy in addition to its best-in-class VM capabilities. The operator or maintenance professional can see the health of each Jet Edge water jet intensifier pump from the Data Screen pages.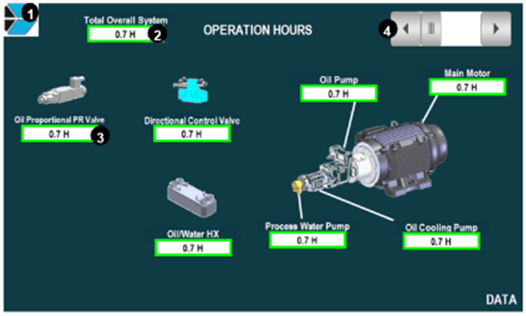 This data-rich display provides accumulated operating hours for every component in the complete Intensifier Pump Assembly. Additionally, a color-coded border outlines each runtime field, showing where that component is in its MTBF-predicted life; Green = good, Yellow = <20% life remaining, Red = predicted lifespan exceeded.
How does this help? As components move into the yellow range, it's time to schedule maintenance or replacement. After the service, reset the component's runtime to zero (0) to maintain data accuracy. Put another way, this tracking approach reduces guesswork, minimizing unnecessary service and maintenance and MTBF-caused downtime.
The Payoff of Predictive Maintenance on Water Jet Systems
Computer technology built into intensifier pumps and water jet systems is, in effect, reinventing, or at least supercharging PM. This innovative technology enables advanced tracking of individual parts' life, runtime hours for specific components and more. As a result, maintenance staff receives much more accurate tracking of maintenance intervals supporting more efficient component inspection and replacement plans.
These technological advances and the resulting rich data sets create better efficiency in PM processes, more cost-effective PM overall, increased runtime and most importantly, higher ROI from your Jet Edge water jet investment.
Here's some math all water jet system operators will appreciate:
VM + PM = Fewer Failures, higher runtime and improved ROI
Accurate data drives regular service intervals, initiates replacement of consumable parts and flags the need for service checks. When this describes your PM strategy, you can prevent catastrophic failures that result in extended downtime. Done right, you'll keep your water jet intensifier pump and system running in tip-top shape for years.
Talk to Jet Edge about JetSmart Controls
JetSmart is the ideal combination of VM and PM. It provides vital real-time data to operators managing a cut. It provides your maintenance staff with accurate accumulated runtime data for component service, maintenance or replacement. And the VM functionality provides excellent cues to use the Data Pages. For example, suppose an operator must constantly adjust the pressures of an intensifier. In that case, it's time to use the Data Pages, assess its useful remaining life and take proactive PM steps if necessary.
Jet Edge's Hero Series pumps come with our JetSmart Controls latest edition. We engineer this unique and cutting-edge combination to significantly enhance maintenance of the Hero Pump by:
Increasing the efficiency of your maintenance, scheduled and predictive.
Increase the tracking accuracy of each individual part's life.
Keep the pump running in tip-top shape over its entire life.
---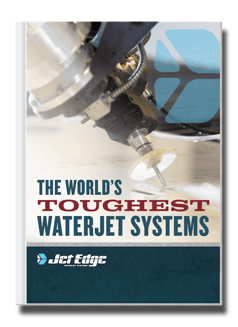 Check Out Our Digital Brochure!
Since 1984, Jet Edge has been designing and manufacturing Ultra-High-Pressure Water jet technology that doesn't back down. Our systems are used around the world in a broad range of industries from the world's leading airlines, to automotive, aerospace and industrial manufacturers, and machine job shops.
To learn more about the Jet Edge difference, our water jet motion systems, pumps and much more, click the button "Download Brochure" to get it now!