There is a lot of information on the web about water jet cutting systems, their applications, and the companies/brands that serve the industry. However, it's hard to know what to trust. What's accurate? What sources contain accurate information?
In response to these questions, we at Jet Edge have curated a link list that serves as a guide to all things water jet cutting - organized by the topics that we get the most questions about. Whether you're new to Jet Edge or a long-time customer, this guide is for you.
IMPORTANT NOTE: Some of the links in this guide are links to Jet Edge resources. This is done with the simple intention of providing as much educational content to our readers and site visitors as possible.
Water Treatment and Quality
Tips and Guides on Cutting Different Materials
Yeah You Can Cut that with Water (jetedgewaterjets.com)
Cutting Stone with Waterjet Systems (jetedgewaterjets.com)
Cutting Metals and Alloys (jetedgewaterjets.com)
Cutting Glass with Water jet systems (jetedgewaterjets.com)

Cutting Foam with Water Jet Systems (jetedgewaterjets.com)

Common Uses for Waterjet Cutting (icscuts.com)

ICS Cuts' guide to different material applications for waterjet cutting systems

Materials (waterjets.org)

org's resource on all the materials commonly cut by water jet systems.
5-Axis Cutting
5-Axis Water Jet Cutting (jetedgewaterjets.com)

Jet Edge's technology page outlining the capabilities of 5-axis cutting and how it separates itself from 3-axis cutting

The Advantages of 5-Axis Cutting Systems (jetedgewaterjets.com)

Our quick guide to how 5-axis systems differentiate themselves from 3-axis systems

Tilting the Cutting Head (waterjets.org)

Waterjets.org's guide to the impacts of tilting the cutting head. Not as in depth of a guide into 5-axis but they do cover it a bit in the document

Benefits of a 5-Axis Waterjet Cutting Machine (icscuts.com)

ICS Cuts' blog on the benefits of 5-axis cutting. A nice basic guide to 5-axis advantages

The Advantages and Capabilities of the 5-Axis Waterjet Cutting System

Outstanding thought article by AZO materials on an applications of 5-axis cutting for Jaquet
Abrasive Water Jet Cutting
Water Jet System Maintenance
Jet Edge Video and Blog Series on Maintenance (jetedgewaterjets.com)
Pumps and Pump Technology
Intensifier vs Direct Drive
Eliminate Hydraulic Pressure Spikes

Our technology page on effective technology to reduce wear on hydraulic components and increase uptime.

Choosing a Pump

Waterjets.org's guide on the things to consider when choosing a pump for your system
Visit the Jet Edge Resource Center for even more information on Waterjet Cutting!
Your relationship with Jet Edge does not end after the sale…it only begins! Learn more about custom configurations, high-rails as an option, and see how others have utilized Jet Edge Waterjet Systems to maximize their cutting capabilities.
Talk to Jet Edge
Contact us today to learn how to increase your service offering. You can also reach us by phone toll-free at 1-800-JET-EDGE (538-3343) or internationally at +1-763-497-8700.
---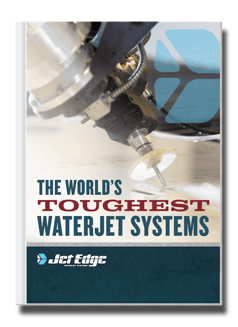 Check Out Our Digital Brochure!
Since 1984, Jet Edge has been designing and manufacturing Ultra-High-Pressure Water jet technology that doesn't back down. Our systems are used around the world in a broad range of industries from the world's leading airlines, to automotive, aerospace and industrial manufacturers, and machine job shops.
To learn more about the Jet Edge difference, our water jet motion systems, pumps and much more, click the button "Download Brochure" to get it now!