If you're in an industry using water jet cutting machines you know how important proper machine maintenance is. You know that up-time is crucial to productivity and profitability and how devastating downtime can be. This is especially true with water jet cutters using garnet abrasives.
Using abrasives with your water jet cutter adds to the complexity of your system and thus increases your risk for a breakdown and the subsequent downtime. Clogs are one of the most common causes of downtime for water jet cutters using abrasives. However, with proper precautions and maintenance, you can significantly reduce your chances of an abrasive clog in your cutter – keeping your machine cutting longer between regular maintenance intervals. Here are 9 things you can do to prevent abrasive clogs:
The 9 Steps to Preventing Abrasive Clogs
Use Quality Abrasive from a Reputable Source
The use of poor-quality abrasives is one of the leading causes of abrasive water jet clogs. Cheaper abrasives are not made to the high manufacturing standards like higher-quality abrasives and can contain contaminants that will clog your machine. Buy your garnet from a reputable source and make sure they are high quality products before dumping them in your cutter's hopper.
Take Precautions to Prevent Debris from Entering the Hopper
High quality abrasives will do no good if during the process of loading your hopper debris and other contaminants make it into your mix. Even small debris can clog your machine, so take precautions when loading your hopper to ensure no other items make it into your mixture.
Keep Abrasives Dry at All Times
High moisture content in your abrasive can make it harder for your machines feeding system to handle. Make sure you always store your garnet abrasives in a cool dry place when not in use. Don't allow your abrasives to be exposed to high humidity for extended periods of time. If your garnet does come in contact with water, allow the abrasives to dry completely before using or simply dispose of it properly.
Ensure Your Abrasive Feed Rate Matches Orifice and Nozzle Size
Before you start cutting, make sure that the set abrasive feed rate on your cutter is a proper match for the orifice and nozzle size you are using. Different orifice and nozzle sizes have different abrasive requirements. Clogs happen when your feed rate exceeds the rate at which your orifice and nozzle consume abrasive.
Use the Right Orifice/Nozzle Combination
You put your abrasive water jet cutting system at risk when you don't use the proper combination of orifice and nozzle. If just one of those isn't a good match for its counterpart, then clogs can occur. Talk to your supplier to make sure you have the right combination before cutting.
Maintain a Proper Standoff
One way you might see an instant clog in your abrasive line is if you touch your material with the tip of your nozzle. When this happens you will have too much back pressure against the flow of abrasive and it will cause the abrasive to get wet and back track up your line. You want to keep the correct distance from the nozzle to the material being cut. If your machine has a height sensor make sure it is set correctly to keep the spacing correct.
Replace Worn Orifices
One of the easiest ways to prevent abrasive clogs in your cutting system is proper maintenance. Part of that maintenance is replacing worn parts – specifically the orifice which tend to wear at a greater rate than some other parts on your machine. Swap yours out in regular intervals and you'll prevent longer downtime in the future.
Know Your Water Jet Manual
It goes without saying but knowing your machine's manual inside and out can prevent a lot of issues during cutting. Every machine has different maintenance intervals, parts and components, and requirements for long-term operation. Take the time to know your individual machine's manual and you will be rewarded with more up-time.
Proper Training and/or Training Opportunities
Operating water jet cutters is no easy task – especially when you add abrasives into the mix. Anyone operating your machine needs to be properly trained in order to keep your machine running as much as possible. If your supplier offers them, take advantage of any in-person training opportunities and make sure all users have gone through operation courses that are specific to your individual model.
---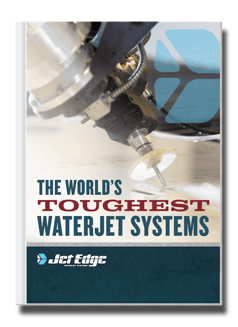 Check Out Our Digital Brochure!
Since 1984, Jet Edge has been designing and manufacturing Ultra-High-Pressure Water jet technology that doesn't back down. Our systems are used around the world in a broad range of industries from the world's leading airlines, to automotive, aerospace and industrial manufacturers, and machine job shops.
To learn more about the Jet Edge difference, our water jet motion systems, pumps and much more, click the button "Download Brochure" to get it now!