When people think of water jet cutting systems, they rarely think much of the software that runs them – and even less so of the operating system that software is running on. However, this software is critical not only to the safe operation of that individual cutting system, but also critical to the security of the entire network it's running on.
In today's environment of ever-growing security threats on the internet, it's more important than ever to update your system software on regular intervals. Your water jet cutting system is no exception. The Windows 7 EOL (end of life) is a crucial event in network security. But why is this? What will upgrading my OS (operating system) do to protect my cutting system? Let's explore.
Security is Paramount in 2020
It's no secret, digital security threats are becoming increasingly problematic for systems and companies in terms of both sophistication and frequency (big 2020 increase in cyber-attacks). It's seems like every month we're hearing of a major database and/or system being hacked and dumped onto the dark web. At the same time, more and more internet connected devices are being plugged into networks worldwide (IOT devices report from Intel). This means more opportunities for hackers, and more device security to manage for companies around the world.
That's why it is more important that ever for companies to closely manage security of not just their in-house networks, but all the devices that are running within. Often times, your network security is only as good as the most vulnerable device within it. But what does this have to do with water jet cutting systems? That brings us to Windows 7 EOL.
Answering Windows 7 EOL (End of Life) Questions
In January of 2020, Windows 7 finally hit EOL.
What does this mean?
It means that Microsoft will no longer be supporting the OS through software updates and through their support centers.
Why is this important?
This is important because Microsoft actively develops and publishes important updates for their supported operating systems that include crucial security upgrades. It's also important if one ever needs to reach out to Microsoft support and receive help with a product. Windows 7 EOL means neither of these things will be happening anymore.
What about Windows XP?
If you're still running Windows XP, you need to upgrade immediately. Security updates and support were ended for Windows XP back in 2014, meaning it is very out of date as an operating system.
Why are security updates important?
Security updates includes software patches to protect against hardware and software level vulnerabilities that may exist on your system. This means that Microsoft is actively helping to protect devices running their software as long as your OS is still supported.
How does this impact my water jet cutting system?
If the OS your water jet cutting system is vulnerable to security threats, that could potentially shut down your entire system, especially if malware, viruses, and other spyware is installed without you knowing. If your system goes down, your cutting stops – that's a big problem.
The Solution
The solution in most cases is straight-forward – it's time to upgrade your OS to Windows 10. Windows 10 is currently the flagship OS from Microsoft and is fully supported. This means on top of regular software upgrades, Microsoft is fully supporting the OS over the phone, chat and email.
In most cases, upgrading involves contacting the manufacturer of your water jet cutting system and inquiring about upgrading the software. There is usually an associated cost, however that cost often pales in comparison to prolonged shutdowns caused by outdated software.
Upgrade now by clicking here and filling out the form!
---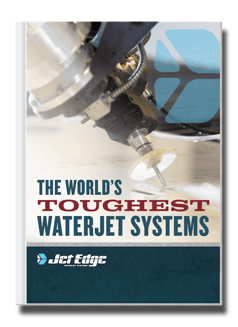 Check Out Our Digital Brochure!
Since 1984, Jet Edge has been designing and manufacturing Ultra-High-Pressure Water jet technology that doesn't back down. Our systems are used around the world in a broad range of industries from the world's leading airlines, to automotive, aerospace and industrial manufacturers, and machine job shops.
To learn more about the Jet Edge difference, our water jet motion systems, pumps and much more, click the button "Download Brochure" to get it now!