In our blog, 4-Step Buying Guide for Purchasing Your First Water Jet Cutting System, we offer a method to evaluate water jet cutting for your shop:
• Step One: Define your cutting objectives
• Step Two: Do I need abrasives or will water-only suffice?
• Step Three: Do my jobs require 3-axis or 5-axis cutting capabilities?
• Step Four: Can I use a standard off the factory floor cutting system or do I need a custom configured system?
For most water jet buyers, the "fun" begins when they reach the point of specifying features to meet their specific application needs. When you have completed the first three steps in the process above, it's time to dial in your system specs.
In part 1 of this multi-post series on enhancing water jet cutting productivity, we're going to explore utilizing multiple cutting heads on a single water jet system for increased capacity and throughput.
Z Carriages and the Various Types of Water Jet Cutting Heads
When designing a water jet system for your specific application, it's important to understand how Z carriages are used for mounting cutting heads and have knowledge of the different types of cutting heads available. When incorporating multiple Z carriages into your system or combining multiple cutting heads to a single Z carriage, you can greatly enhance overall machine and labor productivity at a much lower cost versus deploying multiple complete systems.
Z Carriages for Mounting Cutting Heads
Z carriages are mounted to the motion system gantry and utilize precision ball screws to position the cutting head over the subject matter. When the cutting head reaches the proper position over the material, a motor is actuated, and the cutting head is lowered on the vertical Z-axis to the height programmed for cutting. After the cut, the Z-axis may be returned to its original height. Industry standard Z travel ranges are 12". However, with some system configurations the travel can be increased to 18" thereby creating a larger cutting envelope.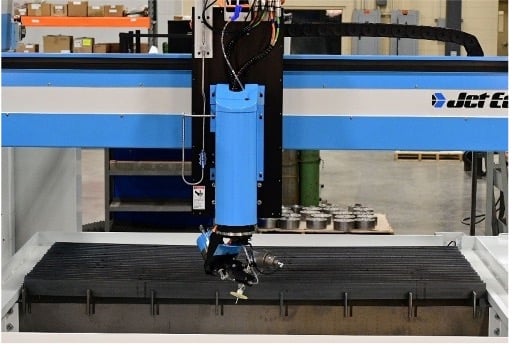 Single Servoed Z Carriage 5-Axis on a High-Rail System
In 3-axis systems, the cutting head's vertical positioning on the Z-axis is driven by a motor (motorized Z) that allows the cutting head to be fixed in either a raised or lowered position during operation. The motorized Z option is used when flat materials are cut and do not require a height change during the cut cycle. Usually, at the end of the cut cycle the Z-axis is fully raised as it traverses back to its starting coordinates so it is safely out of the cutting zone.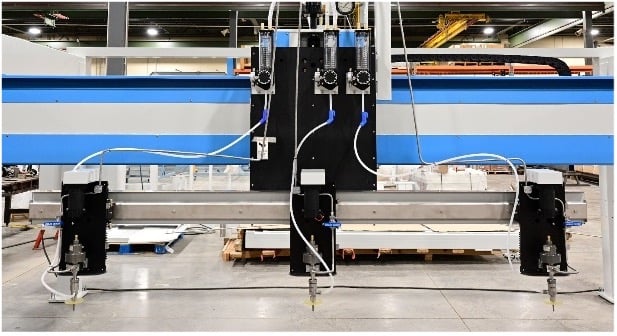 Single Servoed Z Carriage with 8' Spreader Bar with 3 Axis Cutting Heads
When 5-axis cutting is required, a servoed motor (servoed Z) is used. This allows the cutting head height to be programmed and actively adjust to any height along the Z-axis during the cuts. It is this functionality that allows for the cutting of contoured shapes on the material being cut. Additionally, since the height of a servoed Z is programmable, it does not have to return to the full raised position before it traverses to the next cut or back to its 0 position (resting). This further improves overall productivity.
A feature unique to Jet Edge High-Rail systems is a "spreader bar" that is incorporated into the Z Carriage. The spreader bars allow multiple cutting heads to be attached to the main Z carriage. This allows them to travel the full 12" or 18" range as a group. An optional "motorized sub-Z" can be utilized to provide additional travel up to 3 inches on each head independent of the others.
3 & 5-Axis Water Jet Cutting
For many materials, water jet cutting and abrasive-jet cutting systems are only required to cut in two dimensions - across the X and Y planes. In these applications, the Z-axis travel is often motor driven and the cutting head remains fixed in the down (cutting) position while cutting and raised in the up position (traversing) for travel. While these types of water jet cutting and abrasive cutting processes are often referred to as 3-axis cutting, technically speaking these processes are limited to two-dimensional movements. When a servoed Z is utilized with a 3-axis cutting head, the head can be raised and lowered as part of the program and follow a contoured surface as long as the material remains perpendicular to it.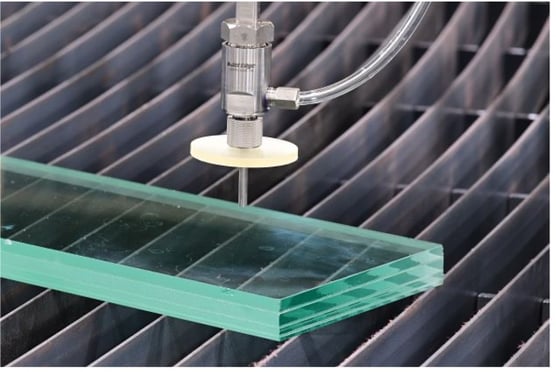 Single Motorized Z Carriage with 3-Axis Abrasive Cutting Head
Enabling a broader range of cutting features and capabilities, a 5-axis water jet system adds two additional axes (the A-axis and C-axis) to the cutting head range of motion allowing for significantly more maneuverability.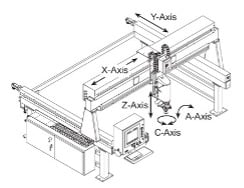 Diagram of a 5-Axis Motion System
The A-axis tilts the cutting head to produce a bevel capable of cutting up to a 60-degree angle. The C-axis rotates the same cutting head around the Z-axis. With 5-axis cutting, the Z-axis always utilizes a servoed motor that allows the cutting head height to be programmed during operation and perform the desired cut.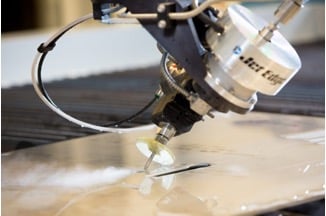 Single Servoed Z Carriage 5-Axis Cutting Head
Water-Only and Abrasive-jet Cutting Heads
Water jet cutting heads utilize only water as the cutting medium. The OmniJet III is designed and tested for pressures up to 90,000 psi (6,200 bar) and orifice sizes ranging from .003 to .046 inches (0.076-1.2 mm).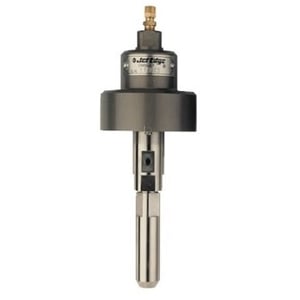 Omnijet III Water Jet Cutting Head
Abrasive-jet cutting heads utilize water and abrasive to increase the range of material that can be cut. When used with the OmniJet, the Permalign II is designed and tested for pressures up to 90,000 psi (6,200 bar) and orifice sizes ranging from .003 to .046 inches (0.076-1.2 mm).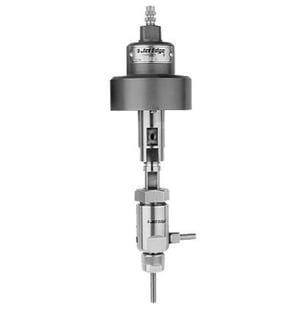 Permalign® II Abrasivejet Cutting Head
Mid-rail motion system gantries can drive up to two Z carriages with each carriage having one 3-axis or one 5-axis cutting head mounted to it. Each Z-carriage on a mid-rail system is driven independently by a drive nut that turns along a precision ball screw.
Dual Z Carriage Systems
By adding a second Z carriage to your mid-rail system you can double your cutting productivity. The two carriages can be "linked" via programming making the 2nd carriage follow the same cutting pattern as the 1st thus making two identical parts. Since the Z Carriages are independently driven, they can be programmed to mirror the 1st carriage and utilize both heads to cut portions of the same part in half of the time.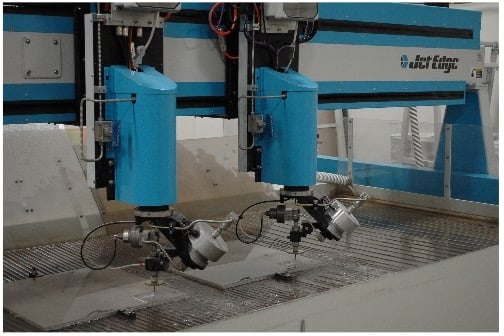 Dual Servoed Z Carriages with Two 5-Axis Cutting Heads on a Mid-Rail System
The 2nd carriage can also be linked to the 1st carriage with a bar physically tying them together. The second carriage is often referred to as a slave. Under this situation, each head mechanically follows the same program and will also produce two identical parts. The distance between two heads linked by a bar is manually adjustable and can be customized to fit your application. When both carriages utilize servoed motors, they can be raised and lowered independently of each other.
Opportunities for Productivity Enhancement on Multi-Head Mid-Rail Systems
The ability to run a cutting program utilizing both cutting heads to cut two like parts at the same time doubling your throughput.

The ability to mirror a part with software and utilize both heads to cut the same part in half the time - also doubling your throughput.

The ability to combine one 5-axis cutting with one 3-axis cutting head when 5-axis cutting is only occasionally required. This reduces capital costs, but still maintains the ability to cut two like parts as in the example above.

The ability to utilize your water jet for both abrasive cutting and water only cutting. One Z carriage may be set up for abrasive and the second Z carriage set up for water only cutting. This allows the user to change over from abrasive-jet cutting to water jet cutting with no change over time.

A secondary spindle may be paired with a 5-axis cutting head or one 3-axis cutting head allowing you to mount a drill or chamfering tool to perform secondary operations without water.
Unlike mid-rail motion systems where the Z carriages are driven independently by a drive nut along the ball screw, the high-rail motion systems' Z carriage is driven by the turning of the ball screw. This results in high-rail systems utilizing only one Z carriage. Multiple cutting heads can be added to the single Z carriage through the use of a spreader bar.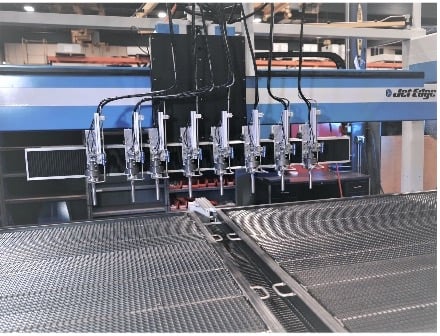 Eight 3-Axis Cutting Heads with Auto Positioning
Single Z Carriage Systems
The drive system for Z carriage positioning on the high rail is unique and the benefits of adding a second independently programmed Z carriage are not available with this motion system configuration. However, there are many other benefits that come with a high-rail systems. Because of this, a single servoed Z carriage with a 5-axis cutting head is often preferred in high-volume precision applications.
Single Z Carriage Systems with Sub Z Systems
To overcome the limits of a single Z carriage, a spreader bar is used and multiple cutting heads are attached to it.
Opportunities for Productivity Enhancement on Multi-Head High-Rail Systems
The single Z carriage is the best platform for high precision, 5-axis abrasive water jet cutting. The high-rail motion system utilizes a heavy-duty cross beam gantry for added rigidity, an independent catch tank, and boasts the highest precision on the market. The high-rail systems larger cutting envelope allows for larger blanks when requiring contour cutting.

High-rail systems often incorporate additional features for precision cutting with fast changeovers. One of the most common features is adapting fixturing to the catch tank. This allows for precise set up and quick parts change-over. Complementary tank features including bladder tanks that raise and lower water levels are often added as well.

A spreader bar may be incorporated onto the carriage to overcome the limitations of a single Z carriage on high rails:

Multiple 3-axis cutting heads can be mounted along the spreader bar enabling cuts to the same part with each head at the same time. The spacing of the cutting heads along the spreader bar is either manually positioned or auto positioned as part of the programming depending upon the options selected.

Water jet and abrasive-jet cutting heads can be mixed on a spreader bar, enabling the advantage of having multiple cutting heads of each type. The mixing of heads allows the user to change from water jet cutting to abrasive-jet cutting with no additional set up.

Spreader bars can be specified in lengths of 2', 4', 6', 8', and 10' depending upon the additional heads being mounted. For instance, a 2' spreader bar would allow for three cutting heads to be mounted while an 8' spreader bar may have 8 or more cutting heads mounted to it. The ability to cut up to 8 parts during a single cycle dramatically improves throughput and overall productivity.

Manual positioning is generally performed using a tape measure. However, adding a digital readout improves both the speed and accuracy of setups.

The additional cutting heads can be mounted to the spreader bar with no additional Z travel. Alternatively, each cutting head may be mounted with a "sub-Z" providing additional travel on each head independently up to 3 inches. This feature allows the cutting heads to be moved to a raised position and out of the cutting area when not in use.
This is Complex. We Get It - We're Here to Help
Jet Edge has done hundreds of installations and can walk you through each of these and other methods to enhance your water jet productivity. We also strive to publish as much information as possible to enable our customers to make the best decision for their specific needs, so visit our Blog Library located in our Resource Center to read about all things water jet. Additionally, have a look at our Case Studies and learn how others have managed through the selection process.
Visit our website to learn how to get the most out of https://jetedgewaterjets.com/jetedgewaterjets-com-site-navigation-resources/

Click above to learn how to get the most out of our website, JetEdgeWaterjets.com
Talk to Jet Edge
Contact us today to learn how to increase your service offering to your customers. You can also reach us by phone toll-free at 1-800-JET-EDGE (538-3343) or internationally at +1-763-497-8700.
---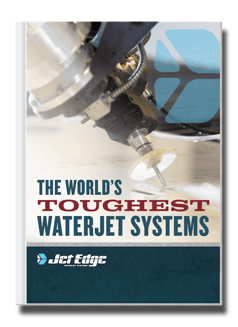 Check Out Our Digital Brochure!
Since 1984, Jet Edge has been designing and manufacturing Ultra-High-Pressure Water jet technology that doesn't back down. Our systems are used around the world in a broad range of industries from the world's leading airlines, to automotive, aerospace and industrial manufacturers, and machine job shops.
To learn more about the Jet Edge difference, our water jet motion systems, pumps and much more, click the button "Download Brochure" to get it now!