Updated 7-29-21
Steel comes in a lot of shapes and sizes – coiled, flat, bar, plate, tube and more. The common element of each of these is they require some kind of "cutting to shape" for customers. Slitting lines are used to slit the coil to width and are then rewound. Shears can be used to blank sheets. Tubes are usually cut with saws. If shapes are required, a laser or plasma cutter can be deployed or even oxyacetylene cutting.
However, there are disadvantages to using cutting methods that involve significant amounts of heat.
What is HAZ? How Does It Impact My Cuts
The Impacts of HAZ
The HAZ or, heat affected zone, is the area of material that has undergone chemical and structural modifications due to the cutting process. HAZ is a byproduct of cutting methods that involve high heat and can have significant negative impacts to the overall integrity of the steel like:
A lowering of the strength of the steel

A reduction in corrosion resistance in the HAZ

Cracking from hydrogen embrittlement
Cold cutting process, like those used by water jet cutters solve these malfunctions because the resulting output materials have no heat affected zones.
Why Water Jet Cutting Machines?
One of the answers lies in Andrea Bustreo article, All you need to know about the heat-affected zone" published in The Fabricator magazine in June 2016. Bustreo writes, "Most sheet metal cutting techniques are based on localized melting of the material. The area between the melted part and the unaffected base metal undergoes chemical and structural modifications. It's called the heat-affected zone (HAZ)."
"From the production process standpoint, the extension of the HAZ depends on three factors: quantity of heat applied, duration of exposure, and area affected. If large amounts of energy are provided for a long time and with wider beams, the HAZ is larger. [Different cutting techniques] causes a different effect:
Shearing and waterjet cutting do not create a HAZ because they do not overheat the sheet metal.

Laser cutting generates the smallest HAZ among all thermal cutting techniques because it applies heat on a very small area, however, it cuts limited material types and material thicknesses and cannot produce parts with complex geometry.

Plasma cutting generates an intermediate HAZ because the plasma pulse is wider than a laser beam. While plasma can cut thicker materials, the greater the thickness, the higher the heat the piece parts are exposed to.

Oxyacetylene cutting generates the widest HAZ of all thermal cutting systems because of the intense heat, slow speed, and wide flames."
Common Materials Best Cut by Abrasive Water Jet Cutters
As a general rule, tougher, thicker materials are best suited for use with an abrasive water jet cutter. The added power that comes from the abrasive water mixture is ideal for these materials and/or applications. These include but are not limited to heavy metals, rocks, thick wood, etc. To help our visitors get a better idea of the materials these machines are designed to cut, we aggregated a list of materials we see commonly see cut with these systems:
Thick and/or hardened steel
Titanium, Stainless Steel, Inconel, Tool Steel
Thick aluminum
Hardened rubber
Granite, Marble, and other hard raw materials
Copper
Very thick and/or hardened wood
Thick and/or bulletproof glass
Ceramics and other tiles
This is certainly not a complete list. However, we hope it can serve as a guide to materials commonly cut with abrasive water jet systems.
If You Need Help, Talk to an Expert
If you're currently using alternative cutting methods that involve heat to cut your steel, talk to us at Jet Edge and see if a cold cutting process like water jet cutting is right for you. Our team of engineers is ready to help find the right machine for your product and/or material.
---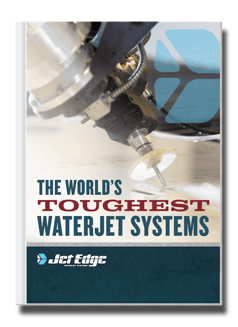 Check Out Our Digital Brochure!
Since 1984, Jet Edge has been designing and manufacturing Ultra-High-Pressure Water jet technology that doesn't back down. Our systems are used around the world in a broad range of industries from the world's leading airlines, to automotive, aerospace and industrial manufacturers, and machine job shops.
To learn more about the Jet Edge difference, our water jet motion systems, pumps and much more, click the button "Download Brochure" to get it now!