"Made in America" claims are back in a big way these days. Not that they ever went away entirely, but the political, economic, and pandemic realities of the 21st Century have encouraged American companies to claim they are making their products on American soil and take steps to do so. And the same influences have more Americans asking for home-grown choices.
What does a "Made in America" or "Made in the USA" label mean? Does that claim have value for consumers, whether you are buying a blender or a piece of capital manufacturing equipment? Does it imply or guarantee a higher quality product? How can you determine the truth of these claims? And do such labels mean anything at all?
What Does "Made in America" Mean?
From a legal perspective, the Federal Trade Commission (FTC) defines Made in America as follows:
For a product to be called Made in the USA or claimed to be of domestic origin without qualifications or limits on the claim, the product must be "all or virtually all" made in the U.S. The term "United States," as referred to in the Enforcement Policy Statement, includes the 50 states, the District of Columbia, and the U.S. territories and possessions.
What Does "All or Virtually All" Mean?
If it all sounds ambiguous, it is to a degree. Again, according to the FTC:
"All or virtually all" means that all significant parts and processing that go into the product must be of U.S. origin. That is, the product should contain no — or negligible — foreign content.
​The FTC's definition encompasses every product attribute, from the raw materials used in components to final assembly. For example, suppose a manufacturer of heavy machinery hydraulic arms uses steel from a foreign country. In that case, it cannot use the Made in America label because the steel makes up a substantial part of the cost of manufacturing.
Therefore, to legitimately (and legally) say a product is Made in America, "all or virtually all" of the product must:
Use American raw materials
Use American-made components, parts, and pieces
Be assembled in a facility on American soil with American labor
Does the FTC Certify "Made in America" Claims?
The short answer is no, and it only requires companies to provide proof for automobiles, wool, textiles, and fur products. Any other manufacturer can label its products as Made in America without supplying proof of the claim to the FTC. It is akin to the honor system, but there are penalties for making false claims. However, nothing happens until someone calls attention to the false claim.
Express and Implied "Made in America" Claims
Companies can make either express or implied Made in America claims. Express claims are unequivocal statements that the product is Made in America in accordance with the FTC definition. If ever challenged to prove their claims, these companies must supply "competent" proof and supporting evidence. This includes the cost of goods sold, inventory, labor, overheads, etc.
Then, there are the implied claims. These are worded in such a way as to "imply" a product is Made in America without claiming that attribute outright. Companies can legitimately claim "assembled in America" when substantial final assembly using foreign components shipped to the plant takes place on American soil. Still, that label means something different than Made in the USA.
Other versions of implied claims include:
Engineered in America
Built with American Quality
American Built
Designed in America
The key to deciphering claims is the wording. If the label does not say either "Made in America" or "Made in the USA," using those exact words, you can assume with a high degree of certainty that the product does not satisfy the Made in the USA requirements.
What are the Benefits of a "Made in America" Product?
Making a product American content, materials, and labor benefits both the Country as a whole and the purchaser Manufacturing jobs, particularly skilled ones, pay substantially higher on average than the service sector. Since consumer spending still drives our economy, keeping the jobs here perpetuates the cycle. Also, manufacturing prompts innovation in production systems and product technology and is necessary to stay competitive. Finally, when total industries are off-shored, American businesses, national defenses and consumer safety may be seriously comprised.
But what's the advantage to you as a buyer? Let's look at how you, as a buyer, benefit when you purchase a Made in America product.
Quality
Post World War II, American products were indisputably best in class globally as the war machine developed statistical process controls and methodology to eliminate defects. However, as mass production became more prevalent with America's newfound wealth and other countries, particularly Japan and Germany, improved their own systems the quality gap closed.
Quality has recentered as a differentiator for leading American companies. US schools are still a magnet for engineering and technology students from around the globe. Greater automation is used in combination with skilled labor to produce high quality components consistently. And world class companies comply with the ISO 9001 quality standards, a demanding certification to earn and retain and on in which low-cost offshore manufacturers do not invest in and follow these quality standards..
The truth is that the Made in America stamp means you are buying some of the highest-quality products in the world.
Safety and Fitness for Purpose
American products must undergo strict safety testing by independent organizations like Underwriter's Laboratories (UL Solutions) and Factory Mutual (FM Approvals), not to mention OSHA and ANSI. The product must pass extremely rigorous testing processes to be allowed to put UL and FM logos on a label. In addition, these organizations visit the manufacturing facility in many situations to verify that the company follows the approved production processes and takes samples to prove continued compliance.
Fitness for purpose is a legal construct that states,
"...goods or services must be capable of being used for the purpose for which they were purchased."
Low-cost manufacturers may take shortcuts and use inferior quality components or parts rated for lighter duty. This can be frustrating when the product fails early in its service life and is dangerous to the users.
Shorter and More Secure Supply Chains
As the pandemic demonstrated, supply chains are crucial to sourcing and receiving the materials and components needed to build a product and to fix one when it breaks. The longer the supply chain, the more vulnerable it is to disruptions and delays, requiring a company to purchase and carry substantially higher levels of inventory. Sourcing parts from within America shortens the supply chain substantially and increases its convenience, stability, and resilience as well as reduces working capital requirements.
Sourcing parts locally is pivotal in manufacturing and supporting products after the sale. Parts nearby mean shorter downtime of critical machinery and processes. During the pandemic, long supply chains suffered from extended parts lead times, parts becoming classified as "Out of Service," and significant price increases.
Skilled Workers and Ethical Labor Practices
American workers are among the most skilled in the world. And, with our labor protection laws, companies must provide healthy and safe working conditions, employ people of the proper age, and pay them a decent wage.
Cheap labor was, and still is, a fundamental reason for American manufacturing jobs going offshore. Without digging into the topic too deeply, anecdotal evidence indicates that many offshore companies' pay scales are a fraction of those in our Country and their labor practices and working conditions can be atrocious.
Environmental Benefits
The USA has continued to emphasize its commitment to clean air and water and pays close attention to it. Environmental standards in many markets mean just the opposite. Purchasing close to your operation reduces the emissions generated by getting the parts from their facility to yours. The same benefits apply if you use raw materials sourced locally.
The Bottom-Line Advantages of "Made in America"
Using Made in America products can significantly impact your bottom line:
Shorter lead times for products, consumables and maintenance and repair parts means lower inventory levels.
The certainty of parts availability helps provide higher service levels as needed components can be supplied more quickly.
Shorter lead times improve production flexibility and downtimes, minimizing the financial impact of a vital piece of equipment sitting idle for lack of parts.
They enable your business to grow and expand faster because the products are available more quickly.
We get that in some instances, electronics as an example, there may not be a local manufacturer and a foreign source is required. We also appreciate that the global supply chain remains critical to many industries and companies. Buying Made in America is clearly not the end-all and be-all solution for smoothly operating processes, but it is increasingly important that it is part of your risk mitigation strategy.
Jet Edge is Made in America
We proudly attach the "Made in America" label to our products and are prepared to prove that claim. Here are the highlights:
We use almost exclusively US-made components to build our Jet Edge Waterjet Cutting Systems.
All manufacturing and assembly occur in our 100,000-square-foot plant in Minnesota, providing high-wage engineering and skilled labor jobs in our community.
We build the highest quality products with an uncompromising commitment to precision and durability.
And we stand behind every pump and waterjet cutting machine that leaves our plant.


We more than satisfy the FTC requirements to proudly qualify our products as Made in America.
How Do You Know if a Claim is Legitimate?
If one of our competitors makes a "we are too" claim about being Made in the USA, take a close look at how they make the claim, as discussed earlier. Even if phrased the right way, ask them for a breakdown of the origin of their components and what percentage of their final product is foreign made, then compare that data to Jet Edge. We think we will beat them every time.
What To Do About Violations
What if you suspect noncompliance with the FTC's Made in USA standard or other country-of-origin mislabeling? Information about possible illegal activity helps law enforcement officials target companies whose practices warrant scrutiny. If you suspect noncompliance, contact the Division of Enforcement, Bureau of Consumer Protection, Federal Trade Commission, Washington, DC 20580; (202) 326-2996 or send an e-mail to MUSA@ftc.gov.
You also can contact your state Attorney General and your local Better Business Bureau to report a company. Or you can refer your complaint to the National Advertising Division (NAD) of the Council of Better Business Bureaus by calling (212) 754-1320. NAD handles complaints about the truth and accuracy of national advertising. You can reach the Council of Better Business Bureaus on the web at adweb.com/adassoc17.html.
Finally, the Lanham Act gives any person (such as a competitor) who is damaged by a false designation of origin the right to sue the party making the false claim. Consult a lawyer to see if this private right of action is an appropriate course of action for you.
For More Information
The FTC works for the consumer to prevent fraudulent, deceptive, and unfair business practices in the marketplace and to provide information to help consumers spot, stop, and avoid them. To file a complaint or to get free information on consumer issues, visit ftc.gov or call toll-free, 1-877-FTC-HELP (1-877-382-4357); TTY: 1-866-653-4261. The FTC enters consumer complaints into the Consumer Sentinel Network, a secure online database and investigative tool used by hundreds of civil and criminal law enforcement agencies in the U.S. and abroad.
Additional Articles
Modern Machine Shop: Random Thoughts About Reshoring and Buying American
All American Made: 27 Reasons Why Buying American Made Products Matters
---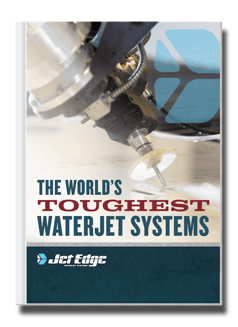 Check Out Our Digital Brochure!
Since 1984, Jet Edge has been designing and manufacturing Ultra-High-Pressure Water jet technology that doesn't back down. Our systems are used around the world in a broad range of industries from the world's leading airlines, to automotive, aerospace and industrial manufacturers, and machine job shops.
To learn more about the Jet Edge difference, our water jet motion systems, pumps and much more, click the button "Download Brochure" to get it now!