When you think about water jet cutting systems, you probably have a picture in your head of a standard-height cross-beam gantry cutting system. After all, it's the most common type of cutting system found across a variety of industries provided by a variety of manufacturers.
However, water jet machines are classified by two primary characteristics that distinguish one system from the next:
The physical size of the cutting table
Height of the cross-beam gantry
As stated, standard "mid-rail" systems are the most common in the water jet cutting industry. However, they aren't best suited for all applications. For certain applications and facilities, "high-rail" systems offer several advantages over their mid-rail counterparts. Let's explore.
What Are "High-Rail" Water Jet Cutting Systems
The term "high-rail" refers to the height of the cross-beam gantry that holds the cutting heads in place during operation. High-rail systems have the cross-beam gantry suspended differently than mid-rail systems in two key ways:
The first key difference is the legs that support the side beams and gantry are taller. This means that the gantry and cutting heads are suspended much higher above the table.

The second key difference comes in the way the cross beams and gantry are mounted. Instead of the cross-beams and gantry being mounted directly to the cutting table, they are suspended on a frame that is completely independent from the actual cutting table and/or catch tank. This allows the cutting table to be completely open on all sides and easily accessible. It also means that because the table/catch tank is completely isolated from the rail, cuts become more accurate and precise due to the lack of vibration being transferred from either the table and/or the cutting head.
Does this different setup offer advantages over mid-rail systems? Let's examine the key advantages of high rails systems.
The Advantages of High-Rail Water Jet Machines
There are specific advantages that high-rail systems offer over their mid-rail counterparts.
First, the high-rail system is suspended high above the cutting table meaning dirt and debris that kick off the material and/or cutting area during cuts is significantly less likely to impact critical drive components located along the gantry. Rigid covers with specialized seals and positive pressure blowers also assists in keeping contamination from the ball screws and linear ways. This results in a cleaner gantry and less overall maintenance for the motion system.

Because the table is open on all sides, loading and unloading options are significantly increased. This is especially impactful when you're trying to integrate a water jet into your facilities material handling system like a crane, forklift, conveyors, and/or shuttle tables. Additionally, the size of the work piece can actually be larger than the table.

Based on the size of the side beams and gantry you can have longer spreader bars for mounting multiple cutting heads. Note: Jet Edge systems can have up to an 8' spreader bar with 8 cutting heads mounted to it in a single system.

Another advantage is the flexibility in the size of table sizes and catch tanks. High rail systems allow the table sizes to vary and still fit within the framework of the motion system thus making them more flexible during configuration.

The linear ways and directly coupled servo driven ball screws support the extra load of the spreader bars. This is a heavier duty construction compared to standard mid-rail systems. This results in greater stability and greater overall accuracy during cuts.

High rail systems have other applications than just waterjet cutting. By mounting robotic swivel heads you now have a system designed for stripping and cleaning applications. This opens them up for use in unique applications where a mid-rail system would not suffice.

Instead of traditional high-pressure whip arrangements, high-rail systems use swing arms to carry the high-pressure water to the cutting head. This means they can be installed in facilities with low ceilings where standard systems cannot.
As you can see, high-rail systems offer many advantages over standard mid-rail machines. But do you need one for your product and/or application?
Do You Need A High-Rail Cutting System?
When making the decision about whether or not you need a high rail system, consider the material you're cutting and the type of cut you need (product, application).
For us at Jet Edge, you should consider a high-rail system if:
The highest speed and greatest amount of accuracy is critical to your application

You desire to have multiple cutting heads in a single system to maximize productivity

You want to incorporate a system into your conveyor line, or you want to utilize loading and unloading systems to improve productivity and/or operator access.
If you're considering a high-rail system for your needs, talk to your regional sales representative. Every cutting application is unique and a high-rail system may fit your needs better in the long-run. Ask your rep how a high-rail system may be advantageous for your application.
---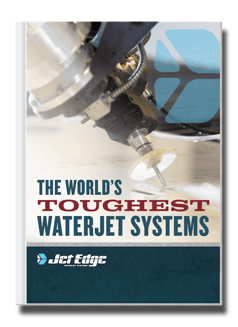 Check Out Our Digital Brochure!
Since 1984, Jet Edge has been designing and manufacturing Ultra-High-Pressure Water jet technology that doesn't back down. Our systems are used around the world in a broad range of industries from the world's leading airlines, to automotive, aerospace and industrial manufacturers, and machine job shops.
To learn more about the Jet Edge difference, our water jet motion systems, pumps and much more, click the button "Download Brochure" to get it now!