When attempting to achieve better cut quality on a water jet cutting system, your first instinct may be to look at upgrading your motion system. While an upgrade to your motion system may certainly improve the quality of your cuts, it isn't the only place to look – your pump system plays just as critical a role in the final quality of cut pieces. Indeed, the pump and motion system work together to deliver cut quality.
The most common pump issue that impacts cut quality is inconsistent water pressure. The cause of the water pressure fluctuations could be due to leaks, clogged filters or hydraulic spikes. Let's explore the impact inconsistent water pressure can have on cut quality, and the steps you can take to overcome water pressure issues due to spikes in the hydraulic system.
The Impact of Hydraulic System Spikes
When the intensifier pump cycles during operation (the piston changes directions), momentary fluctuations in hydraulic pressure – also known as spikes – occur. If these spikes are not properly dampened, the resulting pulse in the high-pressure water stream can be delivered to the cutting head and cause striations and inconsistencies in the cut.
These spikes are often managed with attenuators, which act as storage and buffering receptacles for high-pressure water delivery. Attenuators smooth out pulses and protect the system and components from pressure spikes and the resulting wear and damage to the system and inconsistencies in cuts that can occur during these spikes.
However, an attenuator alone is often not capable of completely smoothing out these spikes.
The Advantages of Dual Buffering Technology
When an attenuator is not up to the task of managing hydraulic system spikes, dual buffering technology may be the answer. To achieve dual buffering, we add a hydraulic attenuator to the high-pressure water system in addition to the attenuator. The hydraulic attenuators utilize a bladder that is pressurized with nitrogen that further smooths out hydraulic system spikes during the intensifier cycling. See our maintenance video: Accumulator Pressure Check to learn more about Hydraulic Accumulators.
There are many advantages to dual buffering, including:
Improved cut finishes: The more consistent water delivery, the higher the quality of cut. Dual buffering helps to ensure the optimal delivery of water to the cutting heads, thereby maximizing the performance of your water jet cutting system.
Reduced maintenance costs: Dual buffering helps to greatly reduce wear on your high-pressure system components. This results in longer maintenance intervals, less part wear and replacement, and reduced costs of repairing and maintaining your system.
Extended hydraulic pump life: The reduction in wear and tear resulting from dual buffering means significantly longer overall pump life. By smoothing out those system spikes, dual buffering helps keep your pump operating better, longer.
Your water jet system is expensive and integral to your operations, it's important that it always run at maximum performance and maintenance intervals are as long as possible.
Talk an Expert to Learn More
Obtaining the benefits of dual buffering isn't as simple as just connecting another attenuator to your waterjet cutting system. That's why Jet Edge's intensifier pumps are factory-equipped with dual buffering to allow maximum life and cut quality at all times during operation. Speak to your Jet Edge representative about the advantages of dual buffering.
---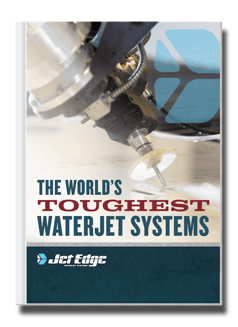 Check Out Our Digital Brochure!
Since 1984, Jet Edge has been designing and manufacturing Ultra-High-Pressure Water jet technology that doesn't back down. Our systems are used around the world in a broad range of industries from the world's leading airlines, to automotive, aerospace and industrial manufacturers, and machine job shops.
To learn more about the Jet Edge difference, our water jet motion systems, pumps and much more, click the button "Download Brochure" to get it now!