Water jet cutters are extremely popular in a variety of industrial applications. They are used in industries ranging from food processing to steel production. However, depending on your product and application, a particular type of water jet cutter is often a better solution than the other. There are two main types of cutters – standard water jet cutters (water only) and abrasive water jet cutters (these use water with a mixed in abrasive). But how do you know when you need an abrasive water jet cutter? What types of products are best for this type of machine?
Abrasive Water Jet Cutters
Abrasive water jet cutters are very similar to standard water jet cutters in the sense they both use high pressure water to cut various products and/or materials. However, in addition to using water, abrasive cutters use an added garnet abrasive mixed into the water to cut the product and/or materials. This garnet abrasive is inert and does not react with the materials it is used to cut making it perfect for industrial cutting applications – giving you a clean, accurate cut without ruining your product and/or materials.
Another large advantage to using abrasive cutters is the increase in cutting power that they provide. Mixing the garnet abrasive into the water stream significantly increases the power of that stream. Adding the garnet to the water makes the high-pressure stream significantly heavier and more abrasive thus increasing the cutting power of the system. This greatly increases the amount of materials and/or products that these machines can cut, making them ideal for heavy industrial applications.
Common Materials Best Cut by Abrasive Water Jet Cutters
As a general rule, tougher, thicker materials are best suited for use with an abrasive water jet cutter. The added power that comes from the abrasive water mixture is ideal for these materials and/or applications. These include but are not limited to heavy metals, rocks, thick wood, etc. To help our visitors get a better idea of the materials these machines are designed to cut, we aggregated a list of materials we see commonly see cut with these systems:
Thick and/or hardened steel
Titanium, Stainless Steel, Inconnel, Tool Steel
Thick aluminum
Hardened rubber
Granite, Marble, and other hard raw materials
Copper
Very thick and/or hardened wood
Thick and/or bulletproof glass
Ceramics and other tiles
This is certainly not a complete list. However, we hope it can serve as a guide to materials commonly cut with abrasive water jet systems.
Abrasive Systems Come with a Higher Price Tag
Generally speaking, abrasive water jet systems come with a higher price tag than their water-only counterparts. The added abrasive creates the need for higher operating pressure pumps, specialized nozzles that can handle abrasives, and several other specialized parts such as abrasive hoppers, settling tanks and chillers. Since Abrasive water jet systems do not use hazardous materials for cutting or cooling, they are environmentally safe, with water most frequently filtered and discharged down the drain.
The introduction of a closed loop recycling systems eliminates the need to continually add water to the system and further reduces the discharge of water. These water jet systems and components can be custom configured to your shop and your product application.
---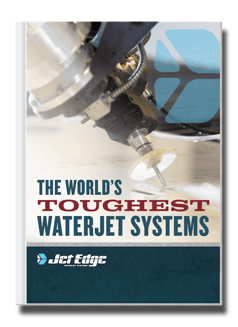 Check Out Our Digital Brochure!
Since 1984, Jet Edge has been designing and manufacturing Ultra-High-Pressure Water jet technology that doesn't back down. Our systems are used around the world in a broad range of industries from the world's leading airlines, to automotive, aerospace and industrial manufacturers, and machine job shops.
To learn more about the Jet Edge difference, our water jet motion systems, pumps and much more, click the button "Download Brochure" to get it now!